Aménagements hydrauliques et paysage rural de Narbonnaise à Mailhac (Aude)
Im Rahmen eines übegreifenden Forschungsprogrammes, das der Untersuchung des Territoriums der Siedlung von Mailhac während der letzten 4000 Jahre gilt, wurde zu Füβen des 20 km nördlich von Narbonne gelegenen bekannten vorgeschichtlichen Oppidums von Le Cayla eine zur Hälfte im Boden verlaufende Vorrichtung des antiken Wasserbaus entdeckt. Die im ersten vorchristlichen Jahrhundert errichtete Wasserleitung besitzt mehrere Revisionsschächte, ein System zur Regulierung der Schüttung sowie ein Absetzbecken. Es ist anzunehmen, daβ der Zulauf der Leitung über ein Wehr in der Répudre, dem örtlichen Wasserlauf erfolgte. Das Wasser wurde an eine Villa bzw. eine Siedlung unter dem heutigen Dorf herangeführt, aber auch (und zwar über eine bereits beim Bau der Anlage vorgesehene Abzweigung) zu einem vermuteten römischen Mühlenbetrieb geleitet. Während des zweiten Jahrhunderts diente eine dritte Abzweigung aus Keramikrohren der Versorgung eines Feldbewässerungssystems. Diese multifunktionale Vorrichtung wurde im Zuge einer groβangelegten Landerschlieβung geplant und ausgeführt, bei der auch das gesamte Umland durch den Bau von Wegen und Terrassen überformt wurde. Dabei handelt es sich möglicherweise um Maβnahmen, welche mit der wenige Jahrzehnte zuvor durch Cneius Domitius Ahenobarbus gegründeten Kolonie von Narbonne in Beziehung stehen.
In the field of a research program concerning the territory of Mailhac these past four millenaries, a half under-ground hydraulic structure has been discovered at the foot of the famous Protohistoric oppidum of Le Cayla, 20 km north of Narbonne. Built during the 1st century BC with several manholes, the aqueduct has a flow regulation system and a decantation tank. Water must be drawn from a dam in a nearby stream, the Répuldre, and channelled towards a villa or a settlement beneath the present village. It was also carried from a deviation designed at the time of the construction of the aqueduct towards a presumed Roman mill. During the 2nd century AD, a third junction consisting of an assemblage of pottery pipes may have been made for a field irrigation system. This multi-functional monument was planned and built within a new land exploitation which remodels the whole landscape altogether with paths and terraces. It must belong to an installation connected to the colony of Narbo, founded some decades earlier by Cneius Domitius Ahenobarbus.
Dans le cadre d'un programme qui étudie le territoire de l'agglomération de Mailhac au cours des quatre derniers millénaires, un ouvrage hydraulique semi-enterré a été découvert au pied du célèbre oppidum protohistorique du Cayla, à 20 km au nord de Narbonne. L'aqueduc, construit au Ier s. av. J.-C, comporte plusieurs regards, un système de régulation du débit et un bassin de décantation. La prise d'eau est restituable sous la forme d'un barrage dans la rivière locale, le Répudre. L'eau est acheminée vers une villa ou une agglomération située sous le village actuel, mais aussi, à partir d'une bifurcation conçue lors de la construction de l'aqueduc, vers une probable meunerie romaine. Pendant le IIe s. apr. J.-C., une troisième bifurcation formée par un assemblage de tuyaux en céramique a pu alimenter un réseau d'irrigation des champs. Cet ouvrage, aux fonctions multiples, a été préconçu et bâti dans le cadre d'une mise en valeur nouvelle des terres qui remodèle le terroir tout entier par la construction de chemins et de terrasses. Il s'agit probablement d'une installation en relation avec la colonie de Narbonne, fondée quelques décennies auparavant par Cneius Domitius Ahenobarbus.
Fichier principal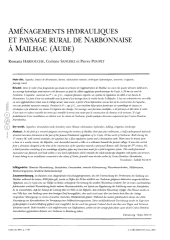 Gallia_2005_119-130_HARFOUCHE.pdf (6.51 Mo)
Télécharger le fichier
Origin : Publisher files allowed on an open archive