Cadrages médiatiques et logiques commémoratives du
discours à propos de sciences : musées, télévision et radioactivité
How do two media as different as an exhibition and television treat the same scientific theme of radioactivity ? Do the effects of frames (ideological, institutional,
structural) organize the different representations of the theme? To answer these questions, we have mobilized a comparative analysis which profits from the
conjuncture of two commemorations which are linked to the theme of radioactivity: the tenth anniversary of the Chernobyl disaster and the 100th anniversary
of the discovery of radioactivity. Everything appears as if, in both cases, the medium «uses» the commemoration to make its privileged mode of legitimization work, to put it to the test, and to make it visible for all as a set of directives. This analysis shows the extent to which the media treatment of the same theme depends
on conceptions of the relationship between science, media, and society which are not self-evident and which are described with precision and on empirical bases
herein.

El artículo comienza con una interrogación en el sentido de saber ¿ Cómo es posible que dos medios de comunicación tan diferentes como son la exposición y
la televisión traten el mismo tema científico, es decir, la radioactividad ? Los efectos de los marcos [ideológicos, institucionales, estructurales] ¿ organizan
representaciones diferentes de esta temática ? Para responder a estas preguntas, se realizó un análisis comparativo, aprovechando la conjunción de dos conmemoraciones relacionadas con el tema de la radioactividad, con el décimo aniversario de la catástrofe de Tchernobyl y el centésimo aniversario del
descubrimiento de la radioactividad. Todo se presenta como si en los dos casos, los medios de comunicación « utilizaran » la conmemoración para hacer funcionar
su modo de legitimación privilegiado, ponerlo a prueba, y hacerlo visible a todos como modo de empleo. El análisis realizado en este estudio demuestra hasta qué punto el tratamiento, por parte de los medios de comunicación, del mismo tema depende de las concepciones de la relación entre ciencias, medios de comunicación y sociedad, las cuales no son evidentes, pero que en este estudio trata de describirse de manera precisa y con bases empíricas.
Comment deux médias aussi différents que l'exposition et la télévision traitent-ils d'une même thématique scientifique, la radioactivité ? Des effets de cadres (idéologiques, institutionnels, structurels) organisent-ils des représentations différentes
de cette thématique ? Pour répondre à ces questions, nous avons mis en oeuvre une analyse comparative, en profitant de la conjonction de deux commémorations
liées au thème de la radioactivité, avec le dixième anniversaire de la catastrophe de Tchernobyl et le centième anniversaire de la découverte de la
radioactivité. Ces deux événements définissent en effet, de 1995 à 1999, le positionnement respectif des deux médias par rapport au thème. Tout se passe comme si, dans les deux cas, le média « utilisait » la commémoration pour faire fonctionner son mode de légitimation privilégié, le mettre à l'épreuve, le rendre
visible à tous comme mode d'emploi. Cette analyse montre à quel point le traitement médiatique d'un même thème dépend de conceptions du rapport entre
sciences, médias et société qui ne vont pas de soi et qu'il s'agit ici de décrire avec précision et sur des bases empiriques. Les résultats de cette étude, encore
partiels, nous engagent sur la piste d'un renouvellement des réflexions sur les méthodologies comparatives ainsi que sur les formes et enjeux du débat public.
Fichier principal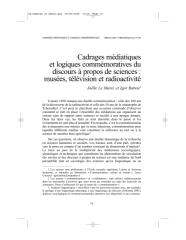 LeMarecetBabou.pdf (192.54 Ko)
Télécharger le fichier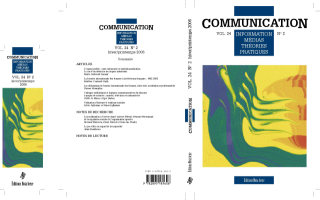 NB-Communication_24=2.jpg (435.66 Ko)
Télécharger le fichier
Premierespages.pdf (87.39 Ko)
Télécharger le fichier