Stratégies d'exploitation d'un écosystème alpin au Tardiglaciaire. Les chasseurs de marmottes du Vercors
One of the specificities of the Vercors mountains (Northern french Alps) is that every inner late-glacial settlement with preserved faunal remains they include are specialised in alpin Marmot (Marmota marmota L.) exploitation: l'Olette (950 m a.s. l.), Les Pierres (1040 m a. s. l.) , Colomb (1050 m a. s. l.), la Passagère (1050 m a. s. l.), Bobache (700 m a. s. l.) and les Freydières (820 m a. s. l.). That activity was uncovered at the beginning of the XXth century by Hippolyte Müller and it has been confirmed by numerous field and faunal works since. However it appears that the lack of thickness of the late glacial sedimentary records at high altitude produced a palimseste of diachronical cultural settlements for most of them (above 700 m a. s. l.). This was demonstrated by compared lithic technology and 14C dates. We thus propose an updated description of these sites. The archeozoological study based on two exclusive series puts forward that the different groups of marmots were marked by unequal preservation of the elements. It also appears that Marmots were subject to extensive butchery, which probably has to do with exportation of carnal matter and fur. Most of the sites correspond with short-term settlements specialized in Marmot refining. That specialised activity fits the paleoenvironmental data, as a strategy specifically link to the exploitation of a high altitude environment situated above the upper limit of the forest along the whole of the Late Glacial. Indeed, as low-altitude settlements show some diachronal stabilities in hunting strategies, we may consider diachronal continuity in alpine Marmot exploitation along the Late Glacial in the Vercors mountains. Marmots certainly underwent specialised hunts taking place at the end of summers and / or at the beginnings of automns. Lastly we will also have a look at the economical relations between high-altitude sectors and low-altitude valleys, as well as the possibility of culturally-based differences in dealing with marmots.
Au Tardiglaciaire, le massif du Vercors se distingue par une exploitation préférentielle de la marmotte alpine (Marmota marmota L.) dans tous les sites d'altitude à faune conservée : l'Olette, Les Pierres, Colomb, la Passagère, Bobache et les Freydières. Cette activité mise en évidence au début du XXe siècle par H. Müller a été, depuis, confirmée par de nombreux travaux. Cependant, il apparaît que la faible dilatation des remplissages tardiglaciaires d'altitude a entraîné un palimpseste d'occupations chrono-culturelles diachroniques pour la plupart d'entre eux. Nous proposons donc une description actualisée de ces gisements. L'étude archéozoologique, articulée autour de deux séries inédites met en évidence que les différents ensembles osseux de marmottes sont affectés par une conservation différentielle. Il ressort également que la marmotte a fait l'objet d'un important travail de boucherie sans doute lié à une exportation de matières carnées et de fourrure. La plupart des sites correspondent à des stations à occupations de courte durée, spécialisées dans la transformation de la marmotte. Cette activité, en accord avec les données paléoenvironnementales tardiglaciaires, s'inscrit en tant que stratégie spécifique d'exploitation d'un milieu d'altitude situé au-dessus de la limite supérieure de la forêt. Par analogie avec les sites de plus basse altitude montrant une relative stabilité diachronique des pratiques cynégétiques, il est possible d'envisager une continuité de l'exploitation de la marmotte dans les gisements du Vercors au Tardiglaciaire, en dépit des problèmes de palimpsestes d'occupations. La marmotte a sans doute été l'objet de chasses spécialisées saisonnières intervenant à la fin de l'été et/ou au début de l'automne. Nous évoquons enfin, les relations économiques entre secteur d'altitude et zones de piémont, ainsi que la possibilité de traitements différentiels de la marmotte d'origine culturelle.
Fichier principal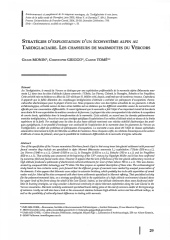 2006_MONIN_et_coll_Strategies-exploitation-ecostysteme-alpin_Pierrefort.pdf (10.43 Mo)
Télécharger le fichier
Origin : Explicit agreement for this submission