La Culture au risque du « Web 2.0 »
This study aims at pondering over the stakes and the impacts of the Web 2.0 on the world of Libraries and Cultural fields in general.
During our work on an Open Source Digital community Archive 2.0 – developped in New Zealand, we have notably analysed the legal stakes that can jeopardise an institution which would like to become 2.0 (in terms of copyright, or privacy).
Thus, we tried – first - to make a state of the art of the « Web 2.0 » (its tools, concepts, novelties), and above all of the « Libraries 2.0 », and every possible sites of a « Culture 2.0 ».
Cette étude consiste en l'analyse des enjeux et des impacts du Web 2.0 dans le monde des bibliothèques et de la culture en général.
A partir d'un travail mené autour d'une Archive Numérique communautaire 2.0 développée en Open source en Nouvelle Zélande, nous avons notamment analysé les risques légaux pour une institution qui se ferait « 2.0 » (en terme de copyright et de propriété privée).
Ce qui nous a amené à tenter de dresser - dans un premier temps - un état de l'art du « Web 2.0 » (ses outils, ses concepts, ses nouveautés), mais surtout des « bibliothèques 2.0 », et de toutes les conjugaisons d'une « Culture 2.0 ».
Fichier principal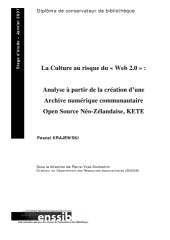 web20_pk_nz.pdf (1.21 Mo)
Télécharger le fichier
web20_pk_nz_annexes.pdf (1.36 Mo)
Télécharger le fichier
Origin : Files produced by the author(s)