Usages de l'argent et pratiques monétaires
This text aims at surveying the dynamics of works on money developed, since the 1980s, in institutional economics, economic sociology and economic anthropology; and proposing a subjective synthesis of present directions for research. We first take a glance at the field of Francophone and Anglophone works. After having defined the scope of this studied field, we discuss monetary uses through four main subjects: first, the contribution and the limits of the Polanyian approach of modern money; then, the grounds for renewing the analysis by bringing to light the qualities of money, considered a monetary asset. This leads to propose a critical analysis of the economic postulate of monetary fungibility, and to present the basis of what constitutes a socio-economy of monetary conversions. We eventually examine the ambiguous relationships between money and market and, beyond the market, between money and social cohesion in a market society.
L'objectif de ce texte est de faire le point sur la dynamique de travaux menés depuis les années 1980, sur l'argent et la monnaie, en économie institutionnaliste, sociologie économique et anthropologie économique et de proposer une synthèse subjective des pistes actuelles. Nous présentons d'abord le champ des travaux francophones et anglophones. Après avoir ainsi circonscrit le champ d'étude, nous discutons des usages de l'argent et des pratiques monétaires au travers de quatre grands thèmes : tout d'abord, les apports et les limites de la conception polanyienne des monnaies modernes, puis les bases d'un renouvellement de l'analyse par la mise au jour de qualités de la monnaie considérée comme avoir monétaire. Cela conduit à proposer une analyse critique du postulat économiste de fongibilité des monnaies et à présenter les fondements de ce qui constitue une socioéconomie des conversions monétaires. Enfin, nous procédons à un examen des rapports ambigus de la monnaie au marché et, au-delà du marché, au lien social dans une société marchande.
Fichier principal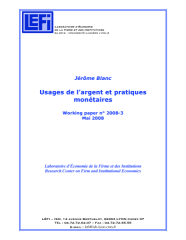 WPBlanc03.pdf (406.19 Ko)
Télécharger le fichier
Origin : Files produced by the author(s)