Rhythm, accentuation and final lengthening in French
This article concerns French rhythm. Rhythm (repetition and alternation of similar or opposite patterns) may be perceived at three different levels: the breath group (or intonation group), the prosodic word and the syllable. The breath group level (or intonation group) consists in the repetition and alternation of two highly contrastive global tunes, which resembles Jones' Tune 1 and Tune 2 for English, but the differences between the rising or falling tunes are extremely exaggerated in French. The second level concerns the repetition of an archetypal prosodic word (PW) rising pattern. A PW is composed of one or more lexical words. For a given rhythm, the speaker tends to utter PWs of similar length, regrouping, if necessary, short lexical words in a single PW. The up and down of Fo in French are bounded to boundaries. they are bounded to lexical stresses in English. The last level is characterized by the repetition of open syllables (3/4 of the syllables are open, and half are of CV type). Based on Fraisse's work on "intensive" (with initial accentuation) and "temporal" (with final lengthening) rhythmization, it is concluded that both types of rhythms, intensive and temporal, coexist in French and English; Accentuation (on lexically stressed syllable) is dominant in English (intensive rhythm), and (final) lengthening recessive. In French, temporal rhythm is dominant, but initial accentuation coexists and may prevail in some styles. It is concluded that, if English is interpreted as a "stress language", French should be considered as a "boundary language". The notion of "boundary" is cognitively more present in French than the notion of "stress".
Cet article concerne le rythme en français. Le rythme (répétition et alternance de patrons similaires ou contraires) peut être perçu à trois niveaux : le groupe de souffle (ou groupe intonatif), le mot prosodique et la syllabe. Le groupe de souffle consiste dans la répétition et l'alternance de deux « tunes » hautement contrastés, qui ressemblent aux Tunes 1 et 2 de Jones pour l'anglais, mais la différence entre les «tunes » montant et descendant est fortement exagérée en Français. Le second niveau consiste en la répétition d'un patron prosodique de mots montant. Un mot prosodique est composé d'un ou plusieurs mots lexicaux. Pour un rythme donné, le locuteur a tendance à égaliser la durée des mots prosodiques, quitte à regrouper plusieurs mots lexicaux courts en un seul mot prosodique. Les mouvements de Fo en français sont alignés avec les frontières des mots prosodiques, et on assiste à la répétition de mêmes patrons prosodiques étalés sur plusieurs syllabes; ils sont alignés avec les syllabes lexicalement accentuées en anglais. Le dernier niveau est caractérisé par la répétition de syllabes ouvertes (3/4 des syllabes sont ouvertes en français, et la moitié sont de type CV). Basé sur le travail de Fraisse concernant les rythmes intensifs (avec accentuation initiale) et temporel (avec un allongement final), il est conclu que les deux types de rythmes, intensif et temporel, coexistent en français et en anglais. L'accentuation des syllabes lexicalement accentuées est dominante en anglais (rythme intensif), et l'allongement final récessif. En français, le rythme temporel est dominant, mais l'accentuation initiale coexiste et peut dominer dans certains styles. Il est conclu que, si l'anglais est interprété comme une 'stress language', une langue à accent, le français devrait être considéré comme une langue à frontières. La notion de frontière, plutôt que celle d'accent, est présente dans l'esprit des locuteurs.
Fichier principal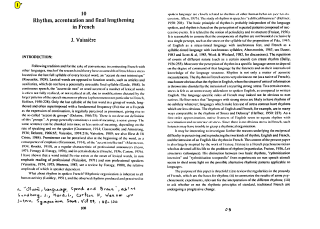 vaissiere_1991_rhythm_accentuation.pdf (2.3 Mo)
Télécharger le fichier
Origin : Files produced by the author(s)