Analyse écologique, modèles multi-niveaux et sociologie électorale
This paper illustrates what the use of multilevel models, applied to aggregate data (electoral results, sociodemographic and tax data), can add to the knowledge of votes for the French far-right party Front national. It underlines the link between methodological choices and substantial or theoretical conclusions. In particular, the hypothesis defended in the paper is that this methodology leads to looking at Front national votes through their spatial and temporal diversity, rather than as a unified reality with a univocal meaning. Moreover, this methodology leads us to consider the vote as a scientific object that can, and should, be considered in a relational, and not only simply individualistic (rational choice or psychosocial theories) or holistic (very general theories, putting the stress on large socio-historical changes) view. Thus, the reflexion on relations between individuals and context rests on the hypothesis that these two notions should be understood in their complementarity rather than as two separate realities, as Elias demonstrated.
Cette communication propose une analyse du vote en faveur du Front national aux élections présidentielles de 1995, 2002 et 2007 (soit quatre tours de scrutins) au moyen d'une méthodologie alliant analyse écologique et modélisation multiniveau, qui permet de tenir compte du caractère fortement spatialisé du vote FN tout en mettant en évidence les fondements sociaux des électorats frontistes – l'emploi du pluriel est volontaire, puisque notre méthodologie met l'accent sur l'hétérogénéité dans l'espace, mais aussi le temps, de ces électorats. En d'autres termes, l'hypothèse ici défendue est que les logiques sociales au fondement des votes frontistes pourront d'autant mieux être mises en évidence qu'on acceptera qu'elles puissent varier dans l'espace et le temps.
Fichier principal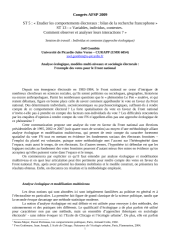 ST5-13Gombin.pdf (4.51 Mo)
Télécharger le fichier
Origin : Files produced by the author(s)