L'Union européenne, un substitut symbolique en matière internationale ?
This communication addresses the case of the European security and Defence Policy (ESDP) and aims at demonstrating to what extent this policy is an emblematic example of a fundamental question raised by the EU: its legitimization. European defence policy is today torn between the claimed intentions on the European level (reactivity to crisis, coordinated action...) the representations that the member-states develop around this policy. From a comparative perspective between France and Germany, the author analyzes this strain and demonstrates that ESDP fulfils latent functions as a political and symbolic substitute which is at least as significant, if not more, as its manifest functions of managing crisis. First of all, there's a kind of torsion between European discourses around European defence policy and still diverging and nationally anchored representations in France and Germany on ESDP. Then a second level of strain originates between the military capacities proclaimed in the multiple European official documents and those really put at EU's disposal by the member-states. Last but not least, a third level of torsion between European reality and discourses is the crucial issue of the legitimization of this policy before the national parliaments and public opinions. Eventually the legitimizing stakes of European defence policy tend to run up against the lack of a European common identity.
Cette communication s'intéresse au cas de la Politique Européenne de Sécurité et de Défense et vise à montrer en quoi cette politique constitue un exemple emblématique d'une question fondamentale soulevée par l'UE : celle de sa légitimation. La politique européenne de défense est aujourd'hui traversée par une tension entre les intentions affichées au niveau européen (réactivité aux crises, action coordonnée...), et les représentations des États. A partir d'un exemple comparatif entre la France et l'Allemagne, l'auteur étudie cette tension et démontre que la politique européenne de défense remplit des fonctions latentes de substitut politique et symbolique, au moins aussi prégnantes, si ce n'est plus, que ses fonctions manifestes de réactivité aux crises. Tout d'abord, la distorsion entre les discours européens autour de la politique européenne de défense et les représentations encore largement différentes (nationalement appropriées) que la France et l'Allemagne s'en font. Ensuite, un second niveau de tension se trouve entre les capacités militaires affichées par les différents documents officiels européens et celles réellement mises à disposition par les États. Enfin, un troisième niveau de tension consiste en l'enjeu crucial de légitimation de cette politique devant les parlements et les opinions publiques européennes. Finalement, les enjeux de légitimation de la politique européenne de défense se heurtent à l'absence d'une identité européenne commune.
Fichier principal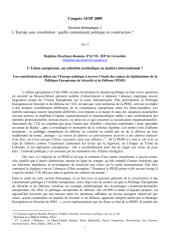 st1.deschaux.pdf (192.19 Ko)
Télécharger le fichier
Origin : Files produced by the author(s)