Enseignements d'une meta-analyse sur le lien participation budgétaire - performance managériale
This meta-analysis is a critical comparison of three of quantitative synthesis. It applies some propositions of the Potsdam international consultation on meta-analysis, in the field of management control. Study design. After a traditional narrative review, three meta-analysis methodologies for the synthesis of articles with heterogeneous methodologies and fields are presented. After a short critical presentation of our results with "box score" and p-values combination methods, we show the result of best-evidence synthesis and its stability as recommended at the Potsdam international consultation on meta-analysis. Results. The results of methods of meta-analysis implemented do not make it possible to conclude without prudence. The link "budget participation-managerial performance" is not statistically significant for the articles of better quality.
Cette méta-analyse se veut être une comparaison critique de trois méthodologies de synthèse quantitative. Elle permettra de mettre en application, en contrôle de gestion, certaines préconisations du forum international de Potsdam (1994) sur la méta-analyse. Conception de l'étude. Nous présentons, après un bref état de l'art classique sur le lien « participation budgétaire-performance managériale », trois méthodologies de métaanalyse en présence d'articles fortement hétérogènes quant à leurs méthodes et terrains. Après application des méthodes des votes et de la combinaison des « p-values », nous appliquons sur nos articles la « best-evidence synthesis » recommandée au forum de Potsdam. Résultats. Les résultats des méthodes de méta-analyse mises en oeuvre ne permettent pas de conclure sans prudence. Le lien est non-significatif pour les articles de meilleure qualité.
Fichier principal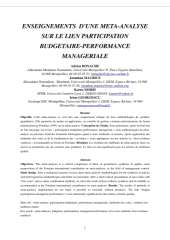 p135.pdf (204.94 Ko)
Télécharger le fichier
Origin : Files produced by the author(s)