Modèle d'explication de l'issue des réformes des politiques publiques en Afrique sub-saharienne
African countries' political arena is witnessing major changes due to the involvement of new political actors in the public policy making process (donors, political parties, civil society). In the past, the formulation of policies was a reflection of the central authority's will. Nowadays, governments are confronted with more resistance when adopting reforms. This paper laborates a model that describes the policy process in African countries and shows how new actors can influence the designing of the reform to their advantage. The model predicts that government success or failure in designing a reform according to its will is a function of the adoption pattern chosen and the ability of the opponents to the reform to influence the opinion of key actors in charge of the decision. Predictions of the model are confirmed by the analysis of the recently adopted contract teacher policy. It is a teacher recruitment reform that was highly contested, but spread in Francophone African countries in the last decade, under various formulations.
La scène politique des pays africains est marquée depuis quelques années par l'apparition de nouveaux acteurs politiques (bailleurs de fonds, partis politiques, société civile). Si avant les dirigeants pouvaient définir les politiques publiques en ne tenant compte que de leurs intérêts propres, cette tâche est désormais plus compliquée car il faut prendre en compte de nouveaux intérêts. Le présent travail propose un modèle décrivant le processus de décision des politiques publiques et montre comment les nouveaux acteurs peuvent influencer la formulation des réformes à leur avantage. Le modèle stipule que le succès ou l'échec dans l'élaboration d'une réforme en lien avec l'objectif initialement visé par le gouvernement, dépendent d'une part du choix de la façon dont cette réforme sera adoptée et d'autre part, de la capacité des acteurs opposés à la réforme à influencer les opinions des acteurs clés impliqués dans la décision finale. Ce modèle est ensuite employé pour expliquer les différences de la politique des enseignants contractuels en Afrique francophone.
Fichier principal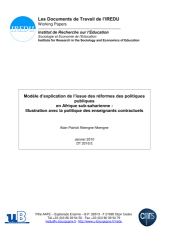 DT_2010-2.pdf (536.42 Ko)
Télécharger le fichier
Origin : Explicit agreement for this submission