La satisfaction des utilisateurs du contrôle de gestion et leur performance managériale
First, this paper aims at demonstrating that the "non opportunistic managers' satisfaction towards management control" explains managerial performance. Second, it aims at determining some control levels that management accountants may work on to optimize this satisfaction. To test the model, data was collected through a questionnaire filled in by 185 managers of different companies; the structural equations methodology has been used. Results validate the model and open interesting research possibilities, notably for behavioural models in management control. Besides, this research helps management accountants to better know qualities of the management control process that optimise managerial performance.
L'objectif de cet article consiste, en premier lieu, à montrer que la « satisfaction des managers non opportunistes vis-à-vis du contrôle de gestion » est une variable explicative de la performance managériale. L'objectif est, en second lieu, de déterminer les leviers sur lesquels les contrôleurs de gestion peuvent agir pour maximiser cette satisfaction. A partir d'une enquête par questionnaire passée auprès de managers en contact avec un service de contrôle de gestion (185 réponses exploitables), le modèle proposé a été testé au moyen d'un modèle d'équations structurelles. Les résultats obtenus valident le modèle proposé, et ouvrent, de ce fait, des pistes de recherches prometteuses. Au-delà de l'enrichissement possible des modèles comportementalistes du contrôle de gestion, cette recherche permet aussi aux contrôleurs de gestion de mieux connaître les qualités du processus de contrôle de gestion à rechercher pour optimiser la performance managériale.
Fichier principal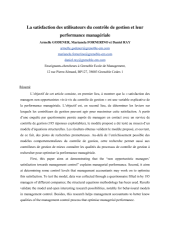 p55.pdf (313.94 Ko)
Télécharger le fichier
Origin : Files produced by the author(s)