Vie et mort de la manne blanche des riverains de la Saône
While allochthonous species of insects multiply and become invasive during hot spells, some traditionally prolific invertebrates associated with lowland rivers are now vanishing. Little is known about why. The fact that people come to watch and exploit mass mayfly emergences shows the level of interest in them: these swarms can be seen as spectacular, or aberrant and invasive. The insects' emergence from the water as a multitude of winged adults is called the "manne blanche," or "white manna, a phenomenon that fishers and locals who harvest the manna along the Greater Saône know well. Their sudden proliferation is expected but occurs at irregular intervals. When it does not occur, it forces people to raise questions about the development of the Saône River and the environmental impact of their actions.
Alors qu'avec les grandes chaleurs les invasions d'espèces allochtones se multiplient, des invertébrés emblématiques des fleuves de plaine, connus pour leur prolifération, disparaissent sans que l'on puisse en déterminer précisément la cause. L'observation des émergences massives d'éphémères, tout comme leur exploitation, témoigne de l'intérêt qu'on leur porte : essaimages spectaculaires pour les uns, aberrants ou envahissants pour les autres. L'émergence des insectes aquatiques en une multitude d'adultes ailés est désignée du nom de " manne ", phénomène bien connu des pêcheurs et des riverains de la Grande Saône, qui, en saison, en exploitaient les chutes à des fins économiques. Attendue, bien qu'irrégulière et espacée dans le temps, la manne, dès lors qu'elle est absente, interpelle les acteurs sur les aménagements de la Saône et leurs conséquences écologiques.
Fichier principal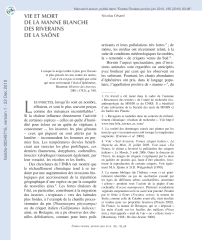 ETUDESRURALES_185_2010_NC.pdf (301.69 Ko)
Télécharger le fichier
Origin : Explicit agreement for this submission