Credit constraints and the cyclicality of R&D investment: Evidence from France
We use a French firm-level data set containing 13,000 firms over the period 1993-2004 to analyze the relationship between credit constraints and firms' R&D behavior over the business cycle. Our main results can be summarized as follows: (i) the share of R&D investment over total investment is countercyclical without credit constraints, but it becomes less countercyclical as firms face tighter credit constraints; (ii) this result is magnified for firms in sectors that depend more heavily upon external finance, or that are characterized by a low degree of asset tangibility ; (iii) in more credit constrained firms, R&D investment share plummets during recessions but does not increase proportionally during upturns; (iv) average R&D investment and productivity growth are more negatively correlated with sales volatility in more credit constrained firms.
Cette note analyse la relation entre les contraintes de crédit et l'investissement en R&D des entreprises le long de leur cycle d'affaire. Elle exploite l'appariement de deux bases de l'observatoire des entreprises de la Banque de France formant un large panel d'entreprises de toutes tailles sur la période 1993-2004. Les principaux résultats sont : (i) la part des investissements en R&D dans l'investissement total est contra-cyclique en l'absence de contraintes de crédit, mais il devient plus pro-cyclique lorsque les entreprises font face à des contraintes de crédit plus strictes ; (ii) le résultat est plus marqué dans les secteurs où les entreprises dépendent fortement definancements externes ; (iii) dans les entreprises les plus contraintes, la part des investissements en R&D plonge en cas de récession, mais ne se rattrape pas proportionnellement lors des reprises ; (iv) les investissements en R&D et la croissance de la productivité moyens sont plus négativement corrélés à la volatilité des ventes dans les entreprises les plus contraintes.
Fichier principal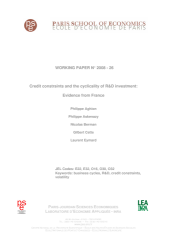 wp200826.pdf (284.32 Ko)
Télécharger le fichier
Origin : Files produced by the author(s)