Le transport ferroviaire régional de voyageurs : un processus collectif d'apprentissage
The regional rail passenger transport: a collective learning process. - Regional rail passenger services are prevalent in France, as opposed to the more marginal role they play elsewhere in the world. It is indeed at the regional level that reforms have been successfully implemented, probably because the process was gradual and cautious. Initially in 1997, seven regions began experimenting with a decentralized system of regional passenger transportation services. By 2002, all metropolitan regions, with the exception of Corsica and Ile-de-France, were involved. Today we have reached a point where this process can be retrospectively and prospectively assessed. This article is first an assessment of the role of actors and the emerging dynamic between regional passenger rail transport supply and demand. Then, a prospective is offered since regionalization is best understood as an ongoing learning process that can be discontinuous or continuous.
Le transport ferroviaire régional de voyageurs se présente depuis la fin des années 90 comme une sorte d'exception française. C'est en effet un secteur où une réforme a été conduite sereinement et a connu un réel succès, sans doute car elle a été progressive et a pris le temps de l'expérimentation. Ainsi, après les 6, puis 7 régions expérimentatrices, qui se sont lancées en 1997 dans ce qui est encore un processus collectif d'apprentissage, ce sont l'ensemble des régions métropolitaines (Corse et Ile-de-France exceptées) qui sont entrées en janvier 2002 dans l'ère de la gestion décentralisée du transport régional de voyageurs. Aujourd'hui, nous avons le recul nécessaire pour évaluer ce processus d'apprentissage, son cheminement, ses résultats et ses perspectives. Une évaluation qui est, dans un premier temps, rétrospective, pour éclairer le jeu des acteurs et la nouvelle dynamique qui en a découlé, tant pour l'offre que pour la demande. Nous proposons ensuite une évaluation prospective car le succès même de la régionalisation invite à poursuivre le processus d'apprentissage, fut-ce en s'approchant de transformations qui relèvent sans doute plus de la discontinuité que de la continuité.
Fichier principal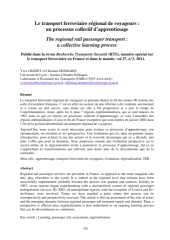 YVCD_RTS_HAL_280611.pdf (277.83 Ko)
Télécharger le fichier
Origin : Files produced by the author(s)