Sépultures et ensembles funéraires du second âge du Fer en Île-de France et en région Centre
The inventory of more of more than 200 grave sites of the Late Iron Age located in the regions Centre and Île-de-France allow to offer the reader a quick survey, in the form of shorts thematic subjects concerning funerary handlings and practices, the topography of the cemeteries or the deceased population of these two regions. Therefore, the authors offer short summaries on paleo-demographic components concerning the local population, on tumuli and funeral enclosures as well as on funerary pratices such as cremation, burials in silos or on the combination of grave goods.
L'inventaire de plus de 200 sites funéraires du second âge du fer découverts dans le Centre et l'Île-de-France permet de proposer au lecteur un aperçu, sous la forme de présentations thématiques, des gestes et pratiques funéraires, de la topographie des nécropoles ou des populations inhumées dans les deux régions. Ainsi, les auteurs proposent de courtes synthèses sur des éléments de paléodémographie des populations, sur les tumulus et les enclos funéraires ou encore sur la pratique de la crémation, les sépultures en silos ou les assemblages mobiliers.
Fichier principal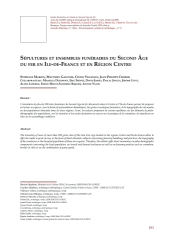 2011_MARION_et_al_Sépultures_ActesAFEAF_Caen2009.pdf (5.06 Mo)
Télécharger le fichier
Origin : Explicit agreement for this submission