Le Monument de Henry Du Mont et la sculpture funéraire à l'époque du père Ménestrier
This article is devoted to Henry Du Mont's tomb's fragment exhibited permanently in the Louvre and part of this institution since 1898-1899. This bas-relief is representing a draped female, her arm sustaining her tearful face. She is holding a sheet of music (Suspendimus Organa nostra, & versa est in luctum modulatio, part of the Grands motets by Dumont, 1686, Volume 5). Both sides of this Allegory of Music, instruments are on the floor. A bass viola da gamba with bow, and a cabinet organ with two keyboards. The complete design for the tomb (with a pyramid and the portrait of the musician) is known thanks to a drawing from the Recueil gathered by Roger de Gaignières (1642-1715) and offered to the King in 1711. The symbolic value of this tomb is completed with the help of Claude-François Ménestrier's writings (1683) and Titon du Tillet's Parnasse françois, and replaced among the 300 items of the Recueil Gaignières.
Cette étude s'intéresse au fragment du tombeau du musicien liégeois Henri Du Mont (1610-1684), maître de musique du roi Louis XIV, conservé au Musée du Louvre depuis 1898-99. Un tombeau fut érigé à la mort du musicien dans l'église Saint-Paul à Paris. Il fit probablement partie des débris d'épitaphes et de tombeaux de cette église reçus par Alexandre Lenoir en juin 1794, pour être conservés au Musée des Monuments français. Transféré à Saint-Denis en 1816, il est affecté au Louvre à la fin du XIXe siècle. " La Musique sous la figure d'une femme affligée, ayant à côté d'elle un orgue & une Basse de Viole, tient un papier à la main avec ces paroles mises en Musique : Suspendimus Organa nostra, & versa est in luctum modulatio " (Titon du Tillet, Le Parnasse françois, 1723). Ce motet appartient au cinquième volume des Grand motets de Dumont publiés en 1686. Le tombeau complet (avec sa pyramide portant le portrait le musicien) est connu par un dessin du Recueil de Roger de Gaignières (1642-1715) offert au roi en 1711. En nous appuyant autant sur les travaux musicologiques (Julie Anne Sadie, 1989 ; Laurence Decobert, 1990 et 2011) que d'histoire de l'art (Judith Colton, 1979 ; Clothilde Romet, 2007), nous abordons la valeur symbolique de cette pierre tombale à la lumière du traité du père Ménestrier (1683) et sa place tant dans le Monument en prose du Parnasse de Titon du Tillet que parmi les 300 tombeaux du Recueil Gaignières.
Fichier principal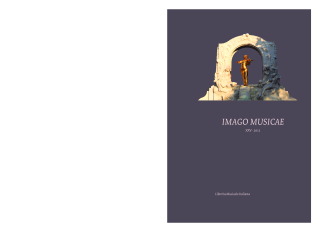 2012_Getreau_ImagoMusicae_Dumont.pdf (3.24 Mo)
Télécharger le fichier
Origin : Explicit agreement for this submission