Notes de lecture et édition du ''second volume'' de Bouvard et Pécuchet : configurations complexes de l'inachèvement
Examining the preparatory documents allows to establish the regular pattern of development of the second volume of Bouvard et Pécuchet despite its incompleteness: Flaubert selects textual fragments on his reading notes pages before they are copied first on summary pages and then on pages prepared for the second volume. However some in absentia fragments (designated by Flaubert for the second volume, but not actually copied) pose complex editorial problems: the text referred to by the novelist should it be published? and if so, how to set it? Finally, even when following a regular pattern, the development process of the second volume is incomplete and it is impossible to know whether or not Flaubert would have kept the marks of enunciation that many copied citations include. These issues will be discussed in the context of the electronic edition of the documentary files for Bouvard et Pécuchet and of the production of second volumes on demand.
[Enregistrement audio : http://www.item.ens.fr/index.php?id=578254 ]
[http://flaubert.revues.org/1808 ]
L'examen des documents préparatoires permet d'établir le schéma régulier d'élaboration du second volume de Bouvard et Pécuchet en dépit de son inachèvement : Flaubert sélectionne des fragments textuels sur ses pages de notes de lecture avant qu'ils ne soient recopiés d'abord sur des pages récapitulatives, puis sur des pages préparées pour le second volume. Cependant, certains fragments in absentia (désignés par le romancier pour le second volume, mais non recopiés effectivement) posent des problèmes éditoriaux épineux : faut-il éditer le texte visé par Flaubert ? et dans l'affirmative, comment l'établir ? Enfin, même lorsqu'il suit un schéma régulier, le processus d'élaboration du second volume est inachevé et il est impossible de savoir si Flaubert aurait ou non conservé les marques d'énonciation que comportent nombre des citations relevées. Ces questions seront examinées à la lumière de la réflexion menée pour l'édition électronique des dossiers documentaires de Bouvard et Pécuchet et son interface de production de "seconds volumes" à la demande.
Fichier principal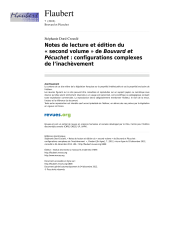 flaubert-1808-7-notes-de-lecture-et-edition-du-second-volume-de-bouvard-et-pecuchet-configurations-complexes-de-l-inachevement.pdf (4.31 Mo)
Télécharger le fichier
Origin : Publisher files allowed on an open archive