Armement et auxiliaires gaulois (IIe et Ier siècles avant notre ère)
This book offers a comprehensive and renewed vision on the subject of Gallic auxiliairies during the Late Roman Republic. To fully understand this phenomenon, this study relies primarily on archaeological sources as well as on historical sources and ancient art. The area of study concerns Gaul in general, including Cisalpine and Transalpine Gaul, as well as the Alpine region. The archaelogical groups of objects used for the study come mainly from warriors graves selected in modern day Northern Italy, Slovenia, Switzerland, Western Germany, Luxembourg, Belgium and France. Chronologically, they range from the beginning of the 2nd to the end of the 1st century BC. The main part of the project is the establishment of a catalogue of 450 warrior graves which is organised geographically. One of the study's strong points is that all the weapons studied have been re-examined and some re-drawn from different museum collections. This allows a better understanding of the evolution of cetlic weaponry at the end of the Iron Age and how it eventually merged with Roman weaponry. A large part of the analysis focuses on the typology of theses weapons, e.g. the Coolus-Mannheim helmets and the republicain gladii. The combination of archaeological sources with historical texts enables the study to conclude with a short history of the Gallic auxiliairies at the end of the Republic which in turn sheds light upon their role in the transition of Republic to Empire.
Cet ouvrage propose une vision exhaustive et renouvelée de la question des auxiliaires gaulois à la fin de l'époque républicaine. L'étude se fonde prioritairement sur l'analyse des sources archéologiques, sans toutefois négliger les textes ni les représentations figurées. Elle couvre toutes les Gaules : Transpadane, Transalpine, Celtique et Belgique, ainsi que l'aire alpine. Le corpus archéologique est composé de 450 tombes de guerriers provenant de 145 sites répartis entre l'Italie du Nord, la Slovénie, la Suisse, la France, le Luxembourg et l'ouest de l'Allemagne, datables entre le IIe et le Ier siècle av. J.-C. 29 sites de bataille ou d'habitat et 9 sanctuaires, sur lesquels de l'armement a été mis en évidence, s'ajoutent à cet ensemble. Tous font l'objet d'une analyse détaillée à l'échelle du site, déclinée ensuite dans des synthèses régionales. L'étude rassemble ainsi un corpus actuellement très disparate, publié ou encore inédit. Un point fort de cette recherche est l'étude renouvelée d'ensembles souvent découverts anciennement et dont les publications ne répondent plus aujourd'hui aux critères de la recherche archéologique. Le rafraîchissement de cette documentation permet ainsi de reprendre l'analyse de l'armement gaulois de la fin de l'âge du Fer et de proposer des classements nouveaux (épées, glaives, casques, boucliers et lances). La partie consacrée à la typologie des armes revient notamment sur la question des casques en bronze de type Coolus-Mannheim ou celle des glaives républicains. La mise en parallèle ce corpus archéologique avec les informations données par les sources antiques permet d'ébaucher une histoire des auxiliaires gaulois à la période tardo-républicaine en mettant en lumière leur rôle dans l'évolution de la République vers l'Empire.
Fichier principal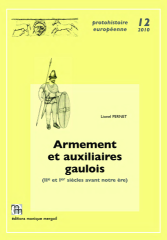 Pernet_2010_Armement_et_auxiliares_gaulois_.pdf (25.62 Mo)
Télécharger le fichier
Origin : Explicit agreement for this submission