Les dynamiques spatiales de la gentrification à Paris
This paper presents a synthesis map that shows the spatial dynamics of gentrification in Paris since the 1960s. The notion of gentrification has been extensively studied since the 1970s, especially in England and Northern America, but the researchers seldom focused on the spatial dynamics of gentrification in a given city, and they seldom made map about this. Gentrification as such begins to be studied in France. The synthesis map I present here is based on a global approach of this process in Paris on various scales and, particularly, on three different sources : first, statistical analyses of the 1982, 1990 and 1999 census data, second, the works by Daniel Noin and Yvan Chauviré published in L'Atlas des Parisiens (1984), and third, a field work conducted from 2004 to 2007 in three neighbourhoods that are at different stages of gentrification. From theses different sources, gentrification in Paris can be interpreted as a diffusion process from the Western and left-bank Beaux quartiers. This corroborates the Anglo-American analysis, following which gentrification is a process of social conquest that takes the shape of a frontier. This paper aims to present an original map of this process about Paris.
Cet article présente une carte de synthèse des dynamiques spatiales de la gentrification à Paris depuis les années 1960. Si la notion de gentrification a suscité de nombreux travaux depuis les années 1970, en particulier en Angleterre et en Amérique du Nord, rares sont les chercheurs qui ont travaillé en particulier sur les dynamiques spatiales du processus dans une ville donnée et qui en ont proposé une cartographie. Ce processus de gentrification commence seulement à être étudié comme tel en France. La carte de synthèse proposée ici est issue d'une approche globale et multiscalaire de la gentrification à Paris et se fonde sur trois sources différentes : des analyses statistiques sur les données des recensements de 1982, 1990 et 1999, les travaux de Daniel Noin et Yvan Chauviré présentés dans l'Atlas des Parisiens (1984), et des enquêtes de terrain menées dans trois quartiers de Paris situés à des stades différents du processus entre 2004 et 2007. Ces différentes sources permettent d'interpréter la gentrification comme un processus de diffusion spatiale centre-périphérie à partir du noyau historique des Beaux quartiers de l'Ouest parisien. Cela confirme l'analyse avancée par les travaux anglo-américains, selon lesquels la gentrification est un processus de conquête sociale qui prend la forme d'un front pionnier. L'objectif de cet article est d'en présenter une cartographie originale à partir de l'exemple de Paris.
Fichier principal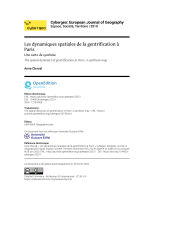 cybergeo-23231.pdf (544.38 Ko)
Télécharger le fichier
Origin : Publisher files allowed on an open archive