Bibliothèque numérique européenne : de l'utopie aux réalités
Why do big plans for data processing that are announced with political support from the highest level in the government turn out, a few years later, to be wasteful failures in a context of widespread indifference that is inversely proportional to the mobilization of the media and politicians at the time of the announcement? The project for "personal medical records" - launched in the media in May 2004, presented as the key to curbing health insurance costs, and included as part of a Social Security act in August 2004 - provides an example. Every French person was to have a medical record on the Internet by 1 January 2007 - but who still remembers? Like this project, the digital European library, announced urbi et orbi in May 2005, would supposedly counter what was seen as Google's cultural hegemony over the diffusion of knowledge on the Internet. This anticlimax leads us to turn our thoughts to the effectiveness of political words and public deeds in France and the EU.
Pourquoi les grands projets informatiques portés politiquement au plus haut niveau de l'État deviennent-ils quelques années plus tard des échecs consommés, dans une indifférence quasi générale inversement proportionnelle à la mobilisation politico-médiatique qui avait présidé à leur annonce ? Le dossier médical personnel, lancé médiatiquement en mai 2004 et inscrit à la loi d'assurance maladie d'août 2004, en est un exemple : chaque Français devait disposer d'un dossier médical sur Internet au 1er janvier 2007 - qui s'en souvient ? À l'instar de ce projet, alors présenté comme la pièce maîtresse de la réduction des dépenses d'assurance-maladie, la bibliothèque numérique européenne, annoncée urbi et orbi en mai 2005, était censée contrer ce qui était vu comme une hégémonie culturelle de Google dans le domaine de la diffusion des connaissances sur Internet. Que la montagne ait là aussi accouché d'une souris nous invite à une réflexion sur l'efficacité du discours politique et de l'action publique, au niveau français comme européen.
Fichier principal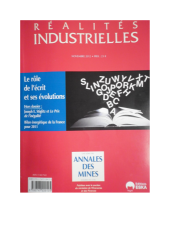 Moatti-AnnalesdesMines-BibliothA_que_numA_rique_europA_enne-nov2012.pdf (670.82 Ko)
Télécharger le fichier
Origin : Files produced by the author(s)