Bien loin du littoral atlantique, le récit d'une expérience de mise en place de GIZC à Palabuhanratu (Indonésie)
Although arising from a world approach within the framework of the earth summit of Rio in 1992, the Integrated coastal zone management (ICZM) cannot be perceived as an universal paradigm. Its application in a coastal sector of the Java Island, in Indonesia, during a training course of study of Master's degree Management and coastal zones development in the department of geography of the University of Nantes (IGARUN) and the Bogor Agricultural University (IPB), was the opportunity to confront the approaches of ICZM between France and Indonesia. This study underlines the particular weight which play the cultural positions in the emergence of new governance systems supposed by the implementation of an ICZM.
Bien qu'étant issue d'une démarche mondiale dans le cadre du sommet de la terre de Rio en 1992, la Gestion intégrée des zones côtières (GIZC) ne peut être perçue comme un paradigme universel. Son application à un secteur côtier de l'île de Java, en Indonésie, dans le cadre d'un mémoire de Master 2 Géographie et Aménagement des Espaces Maritimes de l'Université de Nantes (IGARUN), est l'occasion de confronter les approches et les méthodes que porte cette démarche. Elle permet de dresser le constat du poids particulier que jouent les positions culturelles dans l'émergence de nouveaux systèmes de gouvernance supposés par la mise en place d'une GIZC.
Fichier principal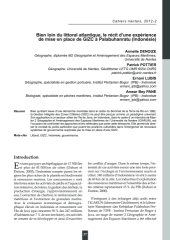 Denoize_et_al_Cahiers_nantais_2012-2.pdf (3.36 Mo)
Télécharger le fichier
Origin : Explicit agreement for this submission