Simuler la baisse de fécondité en Inde
In the second half of the twentieth century, the limitation of fertility became a real concern for developing countries. In fact, the fertility rate of the majority of the countries of the world decreased during that period. India will see a multitude of different policies applied on a local and regional scale. The decline of fertility observed since 1951 can be likened to a diffusion of innovation, the origin of which is the South of the country. The decision to have fewer children remains individual, although it can be influenced by various cultural and social criteria. Individual decisions at a micro scale are thus at the origin of a phenomenon of diffusion at a macro scale. To understand the phenomenon of diffusion from a local scale, it is advisable to situate oneself at an individual‐centered scale. The difficulty of observing behaviors based on hypotheses placed at an individual‐centered scale can be surmounted by the recourses to multi‐agent systems.
Dans la seconde moitié du XXe siècle, la limitation de la fécondité devient une réelle préoccupation pour les pays en voie de développement. De fait, le taux de fécondité de la majorité des pays du monde diminue pendant cette période. L'Inde verra une multitude de politiques différentes appliquées à l'échelle locale et régionale. La baisse de fécondité observée depuis 1951 peut être assimilée à une diffusion de l'innovation, dont l'origine est au sud du pays. La décision de faire moins d'enfants reste individuelle, bien qu'elle puisse être influencée par différents critères culturels et sociaux. Des décisions individuelles sont donc à l'origine d'un phénomène de diffusion à une échelle supérieure. Afin de saisir le phénomène de diffusion à partir d'une échelle locale, il convient de se placer à une échelle individucentrée. La difficulté que représente l'observation de comportements basés sur des hypothèses posées à une échelle individu‐centrée peut être surmontée par le recours aux Systèmes Multi‐Agents.
Fichier principal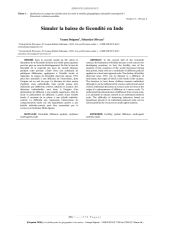 GP10_Theme1_f.pdf (1.25 Mo)
Télécharger le fichier
Origin : Explicit agreement for this submission