Système de villes indien et jeu d'échelles
An urban system is defined as a group of towns within a same space (State or area for example) evolving in interaction, being always set in relations with each other through multiple communication networks and exchanges, thus forming highly interdependent systems. The Indian urban system is characterized by two major breaks in its evolution: on the one hand the Mughal invasion, which installed on entire regular street grid in its whole Western part, on the other hand the settlement that completely reorganized the entire system. Since independence, the system has evolved in a more decentralized way, but continues to be strong inertia of the colonial system. It is now necessary to consider the system at different scales: that of the country (the system as a whole), the state scale (dynamics of a subsystem) and the district scale (locally based). These scalar reports can contribute to a more detailed analysis of this system, showing specific situations that an analysis across the Indian territory alone would not show: What characterizes urban systems across the state? The district scale? What phenomena do relations between state level and district level cause across the country?
Un système de villes se définit comme un ensemble de villes appartenant au même espace (État, région) évoluant en interaction, en étant toujours mises en relation les unes avec les autres par de multiples réseaux de communication et d'échange, formant ainsi des systèmes fortement interdépendants. Le système urbain indien se caractérise par deux ruptures majeures dans son évolution : l'invasion moghole d'une part, qui installe dans toute sa moitié occidentale une trame urbaine régulière, la colonisation d'autre part qui viendra réorganiser totalement tout le système. Depuis l'indépendance, le système évolue de manière plus décentralisée, mais continue de subir fortement l'inertie du système colonial. Il apparaît aujourd'hui nécessaire d'étudier ce système à différentes échelles : à celle du pays (le système dans sa globalité) ; à l'échelle de l'État (dynamique d'un soussystème) et à l'échelle des districts (ancrage local). Ces rapports scalaires pourront ainsi contribuer à une analyse plus fine de ce système, faisant apparaître des situations spécifiques qu'une analyse, seule, à l'échelle du territoire indien n'aurait pu faire apparaître : comment se caractérise le système urbain à l'échelle de l'État ? À l'échelle du district ? Quels phénomènes les relations entre échelle étatique et échelle du district font‐elles émerger à l'échelle du pays ?
Fichier principal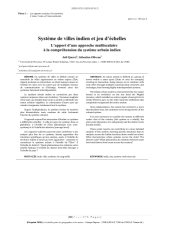 GP10_Theme2_k.pdf (671.54 Ko)
Télécharger le fichier
Origin : Explicit agreement for this submission