Modelling of the TICS Catalyse : Definition of a basic vocabulary
The thinking launched since the creation of "Catalyse" tools led in 2008 to the necessity of integrating the tools of quantitative, qualitative and spatial analysis in an information system managing the contents from data collection to results publishing according to actor's use. Within the framework of these information systems so-called TICS "Territorial Intelligence Community Systems" conception, an action of modelling started in 2009. After definition of first models, which describe the data manipulated by the existing tools of the "Valise Catalyse", we realized that it was important and essential, to define the vocabulary allowing territorial intelligence specialists and computing specialists to communicate. Reminding of realised works in the modelling action we present in this article this last aspect of our work.
La réflexion lancée depuis la création des outils " Catalyse " a abouti en 2008 à la nécessité d'intégrer les outils d'analyse quantitative, qualitative et spatiale dans un système d'information gérant les contenus de la collecte des données à la publication des résultats en respectant les usages des acteurs. Dans le cadre de la conception de ces systèmes d'information appelés SCIT " Systèmes Communautaires d'Intelligence Territoriale ", une action de modélisation a été lancée dès 2009. Après la définition de premiers modèles décrivant les données manipulées par les outils existants de la valise Catalyse, nous nous sommes rendus compte qu'il était important de définir le vocabulaire permettant aux spécialistes de l'intelligence territoriale et aux informaticiens de communiquer. Après un rappel des travaux réalisés dans le cadre de cette action, nous présentons dans cet article ce dernier aspect de notre travail.
Fichier principal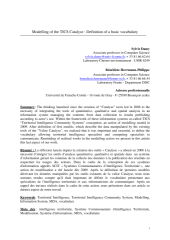 Salerno_2012-Damy-Herrmann-En.pdf (64.24 Ko)
Télécharger le fichier
Origin : Files produced by the author(s)