Marocains et Sénégalais de France: permanences et évolution des relations transnationales
This article presents the Moroccan and Senegalese transnational practices in the political, economic and socio-cultural spheres. In spite of the historical parallelism of Moroccan and Senegalese, the study highlights the content differences which distinguish the two transnational fields. For instance, the Senegalese Murid brotherhood relies on their spiritual sway faithful to build up economic transnational networks. Amongst Moroccans, religion is a field of political tensions on which the Moroccan state strive to keep a firm hold. But, more than a mere enumeration, the authors shed light on invariants and paths of change of transnationalism. The age of Moroccan and Senegalese immigration to France is a factor of diversification of transnational activities. Mechanisms of integration, new generations, new occupational profiles, but also evolution of host and receiving societies, have deeply transformed practices which are increasingly opened outside ethnic communities.
Cet article présente les pratiques transnationales marocaines et sénégalaises dans les sphères politiques, économiques et socioculturelles. En dépit du parallélisme historique des migrations marocaines et sénégalaises, l'étude souligne les différences de contenu qui distinguent les deux champs transnationaux. Par exemple, la confrérie sénégalaise mouride a produit un double dispositif transnational spirituel et économique. Parmi les Marocains, le religieux est un champ de tensions politiques sur lequel s'exerce le contrôle de l'État marocain. Mais plus qu'un simple catalogue, les auteurs mettent à jour les invariants et les voies d'évolution du transnationalisme. L'ancienneté des migrations marocaines et sénégalaises en France est un facteur de diversification des relations transnationales. Les mécanismes d'intégration, les nouvelles générations, les nouveaux profils socioprofessionnels, mais aussi l'évolution des sociétés d'accueil et d'origine, ont profondément marqué les pratiques qui sont de nature de plus en plus ouvertes sur les groupes extracommunautaires.
Fichier principal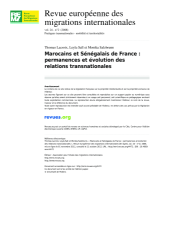 remi-4472-vol-24-n-2-marocains-et-senegalais-de-france-permanences-et-evolution-des-relations-transnationales.pdf (591.93 Ko)
Télécharger le fichier
Origin : Publisher files allowed on an open archive