Femmes et production textile à Aššur au début du IIe millénaire avant J.-C.
At the beginning of the IInd millennium B.C., the inhabitants of Aššur organized long distance trade with Minor Asia; they exported tin and textiles and brought back gold and silver. Some of the textiles were bought in South Mesopotamia while the others were produced locally by the Assyrian merchants wives and daughters. The cuneiform tablets dealing with this trade allow to reconstruct the production from the gathering of wool over the back of the sheep to the selling of textiles ; they give data on some manufacture technics and document the impact of textile production over the daily life of these women and their relationships with their husbands.
Au début du IIe millénaire av. J.-C., les habitants de la ville d'Aššur organisent des échanges à longue distance avec l'Asie Mineure; les matériaux exportés sont principalement de l'étain, qui arrive de l'est, et des étoffes. Une partie de ces dernières proviennent du sud de la Mésopotamie, tandis que les autres sont produites localement par les femmes et les filles des marchands assyriens. Les tablettes cunéiformes documentant ce commerce permettent de reconstituer la chaîne opératoire depuis la récolte de la laine sur le dos des moutons jusqu'à la vente des étoffes, d'envisager quelques techniques de fabrication et d'analyser l'impact de la production textile sur la vie de ces femmes et dans les relations qu'elles entretiennent avec leurs époux.
Fichier principal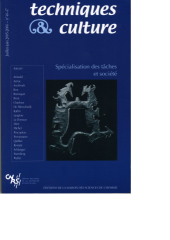 Michel_2006f_T_C46.pdf (2.5 Mo)
Télécharger le fichier
Origin : Explicit agreement for this submission