Analyser les comportements électoraux à l'échelle du bureau de vote
Electoral maps are one of the main tools used to analyze French elections, but scales most commonly used (commune, canton, department) do not allow investigation of urban behavior which nevertheless constitutes the main part of voting people. The objective of the Cartelec project was firstly to built, then to give access to a large audience, on data and electoral maps on polling station level for all French cities larger than 20 000 inhabitants for the period 2007-2012. The challenge is both scientific - urban electoral behavior remains largely unknown and is often limited to unproven stereotypes (gentrified neighborhood voting for greens while peripheral ones abstain or choose extreme parties) - and citizen - giving access to results on the finest aggregation level available can improve citizen participation on political life. Comparing electoral data with demographic, sociological and economic data on this analysis scale allows a better understanding of electoral behavior in urban spaces and of political and spatial segregation.
Les cartes électorales sont un outil souvent utilisé pour analyser les scrutins en France mais les échelles les plus couramment utilisées (commune, canton ou département) ne permettent pas de connaître les comportements politiques urbains qui représentent pourtant la très grande majorité des électeurs. L'objectif du projet Cartelec est de construire puis de mettre à disposition d'un large public les données et les fonds de carte électoraux au niveau du bureau de vote pour toutes les villes de plus de 20 000 habitants pour la période 2007-2012. L'enjeu est simultanément scientifique - les comportements électoraux intra-urbains restent très mal connus et sont trop souvent réduits aux stéréotypes du " vote bobo " des quartiers gentrifiés opposé aux comportements contestataires (abstention et votes extrêmes) des quartiers périphériques - et citoyen - diffuser les résultats à une échelle fine ne peut que contribuer à l'implication citoyenne dans la vie politique. Coupler les résultats électoraux à des données démographiques et socio-économiques à une échelle fine permet simultanément de mieux comprendre les comportements électoraux dans les espaces urbains et d'appréhender les phénomènes de ségrégation spatiale et leurs dynamiques.
Fichier principal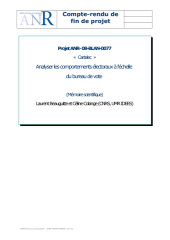 rapport_final_cartelec_part2_FINAL.pdf (5.94 Mo)
Télécharger le fichier
Origin : Files produced by the author(s)