Le religieux comme suppléant social de l'Etat : l'action sociale confessionnelle dans le Brésil du XXIe siècle
Dynamic and pluralist religion plays a vital role in development in contemporary Brazil. As advisors that supplement and, occasionally, even substitute for a state bureaucracy absent or overwhelmed in many vulnerable areas, Brazilian religious organisations are once again becoming the favoured partners of the state. This reconfiguration is taking place under markedly different conditions than in the colonial era, when the throne and the altar worked together in an intimate relationship. Since then, successive constitutions have imposed the legal separation of politics and religion. On a social level, however, the two spheres today appear dedicated to cooperation. This chapter analyses the current tendency of the Brazilian government to 'contract' an increasing number of religious entities to deliver and manage many of its social development responsibilities in 'public-religious partnerships'. In light of this trend, the time has come to reconsider the historical relationship between the state and the Church(es) in Brazil, a phenomenon currently characterised by the advent of a 'supplemental secularism'.
Le religieux, dynamique et pluriel, joue aujourd'hui un rôle essentiel dans le développement du Brésil. Conseillères, complémentaires et parfois mêmes suppléantes d'un Etat souvent dépassé par l'ampleur des enjeux ou même absent de certaines zones sensibles, les organisations religieuses brésiliennes redeviennent des partenaires privilégiés de l'Etat, selon des modalités bien distinctes de l'ère coloniale où le trône et l'autel marchaient main dans la main dans un rapport presque fusionnel. Depuis, les constitutions ont imposé une séparation juridique entre le politique et le religieux. Pourtant, sur le plan social, les deux sphères semblent aujourd'hui vouées à coopérer. Cet article analyse la tendance actuelle de l'Etat brésilien à la " contractualisation " d'un nombre croissant d'entités religieuses pour l'exécution et la gestion de plusieurs de ses prérogatives en matière de développement social, à travers la mise en oeuvre de " partenariats public-religieux ". Il s'agit alors de repenser, à l'aune de cette évolution, le rapport historique entre Etat et Eglises au Brésil, caractérisé par l'avènement d'une " laïcité de suppléance ".
Fichier principal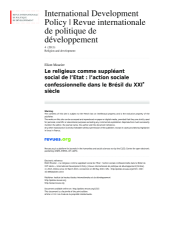 Mourier_-_Poldev_2013.pdf (339.61 Ko)
Télécharger le fichier
Origin : Publisher files allowed on an open archive