Minerais de guerre. Une nouvelle théorie de la mondialisation du droit
The bloodiest conflict since World War II originates in the so-called blood minerals from the Democratic Republic of the Congo (D.R.C.). Blood mineral minerals regulation mixes United Nations resolutions, United-States regulations with extra-territorial scope, certifications issued by the mining sector professionals and specific clauses of private contracts. Such an attempt to elaborate a global regulation on trade in conflict minerals is based on product shopping. Its analysis forms the last part of a research which identifies the various components of the African mining industry legal organization, from large mining joint ventures to offset contracts (dealing with mineral resources compensations versus investments) and to the establishment at the international level of ancommercial disputes resolution system specifically addressing disputes related to mining contracts. This research has demonstrated how transnational companies, using various choice of law technic, elaborate original normative constructions composed mainly of national or international rules with extraterritorial scope but synthetizing such rules in a way specific to each type of contract. Supported by a range of different legal practices shared by the community of international lawyers (such as law shopping, tax shopping, liability shopping, mystery shopping, forum shopping and so forth), transnational companies are able to evade all the national rules applicable, for example, to taxes payment, responsibility in case of contract non-execution, national courts' competences, etc. By focusing on the actors/subjects (i.e. the Global Legal Studies' new topic of research) and not on the national state anymore (i.e. the traditional topic of legal sciences), by de-centering ourselves in such a way, we can propose a new approach to the globalization of law, the so-called normative spaces. Consisting in a new analytical tool, normative spaces refer to singular constructions based upon three differents elements: choice of law practices (1) ; chosen rules resulting from such choice of law practices (2) ; and actors/subjects' discourses on those practices and rules which both delimit and orient them (3). In our globalization era, it thus becomes necessary to rethink traditional categories such as territoriality of the law, conflict rules, localization, public order, representation, etc.
Les minerais de guerre (blood minerals), c'est-à-dire les minerais en provenance de République démocratique du Congo, sont la cause du conflit le plus sanglant depuis la seconde Guerre mondiale. Une réglementation mondiale du commerce de ces minerais s'élabore, qui mêle résolutions de l'O.N.U, lois américaines a effet extraterritorial, certification par les professionnels de l'industrie minière et clauses de contrats de droit privé. L'examen de cette tentative de régulation mondiale du commerce des minerais reposant sur le product shopping est le dernier volet d'une recherche qui a retracé l'organisation juridique de l'industrie extractive africaine, des grandes joint venture minières aux contrats offset de compensation ressources minières vs. investissement, à l'établissement d'une justice commerciale internationale pour régler les litiges nés de ces contrats miniers. Cette recherche a montré comment, par les techniques de " choix de la loi ", les entreprises transnationales construisent des agencements normatifs de règles principalement étatiques ou internationales au champ d'application extraterritorial, en des synthèses propres à chaque type de grands contrats. Les transnationales échapent ainsi - grâce aux pratiques juridiques partagées par la communauté des lawyers internationaux (tels le law shopping, le tax shopping, le liability shopping, le mystery shopping, le forum shopping, etc.) - à toutes les régulations nationales concernant, par exemple, le paiement d'impôts, l'éventuelle responsabilité en cas d'inexécution du contrat, la compétence de juges étatiques pour juger les conflits, etc. En opérant un décentrement de l'analyse - c'est-à-dire en n'examinant plus l'État national, objet traditionnel des sciences juridiques, mais le sujet et ses pratiques, nouvel objet des global legal studies - il est possible d'esquisser une nouvelle approche de la mondialisation du droit : les " espaces normatifs ". Cette nouvelle unité d'analyse de la mondialisation peut être définie comme un agencement singulier composés de différents éléments, soit : les pratiques de choix de règles juridiques par les sujets ; les règles choisies ; les discours des sujets sur ces pratiques et règles - qui les orientent et les encadrent. C'est alors l'ensemble des catégories traditionnelles des sciences juridiques (la territorialité de la loi, les règles de conflit de loi et de juridiction, la localisation, l'ordre public, la représentation, etc.) qui doivent être repensées en contexte de mondialisation.
Fichier principal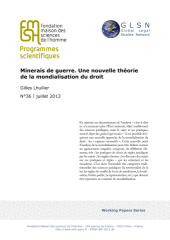 FMSH-WP-2013-36_Lhuilier.pdf (814.13 Ko)
Télécharger le fichier
Origin : Files produced by the author(s)