Pratique religieuse et religiosité parmi les immigrés et les descendants d'immigrés du Maghreb, d'Afrique sub-saharienne et de Turquie en France
Patterns of religious practices along age and sex for immigrant groups coming from North Africa, the Sahel and to a lesser extent Turkey differ from those prevailing for Europeans, with a more intense religiosity for men and the younger. Using survey data (MGIS 1992 TEO 2008) and mobilizing some results from other sources (European values EVS ESS, ISSP and the WVS surveys), we compare religious practices and the importance given to religion for immigrants from the south living in France to the evolution of religion in their country of origin. Our findings suggest that, while being related to individual characteristics, the family and the socialization contexts, religiosity is increasingly marked by issues of identity for these immigrant groups.
Dans les groupes originaires du Maghreb, du Sahel et à un moindre degré de Turquie, les pratiques religieuses et la religiosité vont à rebours du profil qui prévaut en Europe : elles sont plus masculines et augmentent chez les plus jeunes. En s'appuyant sur des données des enquêtes MGIS 1992, TEO 2008, et secondairement sur les résultats des enquêtes Valeurs européennes EVS et ESS, des enquêtes ISSP et WVS, il s'agit de mettre en perspective les pratiques et l'importance accordée à la religion en fonction du contexte et des conditions de vie des immigrés en France, avec en arrière-plan l'évolution de la religiosité dans les pays d'origine. On est amené ainsi à se demander si la religiosité des jeunes issus de l'immigration du Maghreb et du Sahel, qui varie selon les caractéristiques des individus, les legs familiaux et le cadre de vie, n'est pas marquée dans sa poussée récente par des enjeux d'affirmation identitaire.
Fichier principal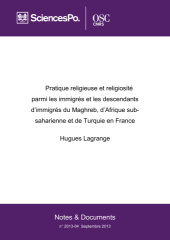 nd_2013_04.pdf (1.42 Mo)
Télécharger le fichier
Origin : Files produced by the author(s)