Music of Vanuatu : Celebrations and mysteries
The musical arts of Vanuatu remain largely undocumented - whether in the detail of their instruments, melodies and rhythms, or the poetic forms and styles used in the songs themselves. And yet, these artistic practices include treasures worthy of being brought to light. This album aims to recreate the various musical atmospheres experienced by Vanuatu people in their lives. After listening to nature and the music it inspires, this musical journey meets daily life at the village with wedding and end-of-mourning ceremonies with dances, singing and drumming. The secular world of the village contrasts with the closed circles of important chiefs and Big Men, whose solemn grade-taking ceremonies are marked by the large slit gongs. Finally, comes the time of mystery. Initiates revive the dead and the ancestors with their song language and supernatural powers. Announced by the bullroarer, their steps dance to the sound of groaning voices and strange cries, punctuated by their drums and rattles. These field recordings were collected between 1997 and 2010 in Torres, Banks, Pentecost, Ambae and Maewo Islands. The 24-page printed booklet is supplemented by a 128-page ebook in French and English.
Les arts musicaux du Vanuatu sont peu connus en dehors de leur pays - qu'il s'agisse des instruments, des mélodies et des rythmes, des formes poétiques et stylistiques. Et pourtant, ces pratiques artistiques recèlent des trésors qui méritent d'être découverts. Cet album tente de restituer les diverses atmosphères qui accompagnent les individus tout au long de leur vie : la nature et les musiques qu'elle inspire ; la vie quotidienne au village avec ses berceuses, ses comptines enfantines, ses réjouissances : mariages, levées de deuil accompagnés de danses, de chants et de percussions. À ce monde profane du village s'oppose celui des chefs et des Grands Hommes avec leurs cérémonies de prise de grade, dont la solennité est soulignée par les grands tambours à fente. Enfin, le temps du mystère. Les initiés font revivre les ancêtres et les morts avec leur langage et leurs pouvoirs surnaturels : introduits par le vrombissement du rhombe, ce sont des voix étranges, des cris ponctués de tambours et de sonnailles, de longs gémissements. Ces enregistrements réalisés sur le terrain entre 1997 et 2010 dans les îles Torres, Banks, Pentecôte, Ambae et Maewo sont accompagnés d'un livret français/anglais de 24 pages et d'un livret électronique de 128 pages.
Fichier principal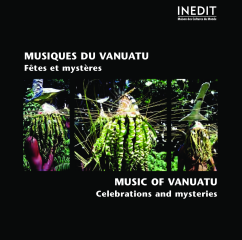 Francois-Stern_2013_Music-of-Vanuatu_MCM_ebook-long_Eng.pdf (2.54 Mo)
Télécharger le fichier
Origin : Explicit agreement for this submission