Les ouvriers en Europe centrale : la dissolution d'une catégorie sociale dans les statistiques
The paper shows that the industrial manual workers have become invisible in post communist societies, especially in the Czech Republic. It tries to explain why a social group which has been in deep crisis since 1989 (contrasting with the communist era) has been forgotten so completely by sociologists. First we analyse what made for unity and diversity among industrial manual workers under communism. Then we show how published statistics make it impossible to count these workers after 1989. The number of publications on these workers in sociological reviews has dramatically decreased. However the industrial manual workers still represent between one quarter and one third of the central European workforce. We then propose some explanation to their invisibility: the objective situation of these workers in times of crisis and deindustrialisation; research funds oriented towards specific topics; the decline of ideologies and of spokesmen who used to strengthen blue-collar workers identities. In the end we underline some ambiguities in the sociological discourses on these workers.
L'article vise à établir et à expliquer la très faible visibilité des ouvriers dans les sociétés postcommunistes, en particulier en République tchèque. Pourquoi la crise manifeste que traverse ce groupe social depuis 1989, en contraste si fort avec la situation précédente retient-elle si peu l'attention des sociologues ? Pour répondre à cette question nous évaluons d'abord les ferments d'unité et de division, objectifs et subjectifs, des ouvriers sous le communisme. Puis nous montrons combien les statistiques officielles, surtout en République tchèque, rendent tout décompte précis des ouvriers impossible après 1989. Nous montrons que les publications portant sur les ouvriers sont particulièrement peu nombreuses depuis 1989 alors qu'on peut estimer que les ouvriers représentent toujours entre un quart et un tiers de la main-d'oeuvre centre-européenne. Nous proposons plusieurs explications : la situation objective des ouvriers dans des économies en crise et en désindustrialisation ; le financement de la recherche sur projets orientés vers des thèmes " à la mode " ; le déclin des idéologies et des porte-parole susceptibles de valoriser les identités ouvrières. Nous achevons en relevant les ambiguïtés des discours sociologiques sur les ouvriers.
Fichier principal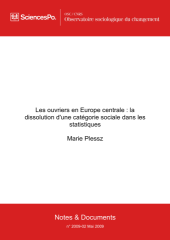 nd_2009_02.pdf (917.34 Ko)
Télécharger le fichier
Origin : Files produced by the author(s)