Hindu nationalism and History of Science: some reflexions
This paper derives from a presentation given in Oslo, at the Science Museum, on October 23 2013, in a workshop organised by Vidar Ennebak, as a critical stance against the exhibit "Sultans of Science" presented at the time in this museum. It's aim is to set the exhibit "Sultans of Science" and the opposition it has met as much in the far-right as among professional historians of science, in a wider context, by observing how Hindu nationalists have also made claims in history of science. The text is still in a draft form especially in the end, and has benefited from the critical remarks of S. Brentjes. All comments are welcome.
Ce texte dérive d'une présentation faite au Musée des Sciences et Techniques d'Oslo le 23 Octobre 2013, dans le cadre d'un séminaire organisé par Vidar Ennebak dont l'objectif était de poser un regard critique sur l'exposition "Sultans des Sciences" présenté au musée. Mon objectif est de situer l'exposition, ces critiques d'extrême droite comme ceux d'historiens des sciences proffessionnels dans un cadre plus vaste en observant la manière dont les nationalistes hindous ont eux aussi réclamé l'histoire des sciences. Ce texte est encore inachevé, surtout sur la fin. Il a bénéficié des remarques critiques sur mon exposé oral de S. Brentjes. Vos réactions sont les bien venues.
Fichier principal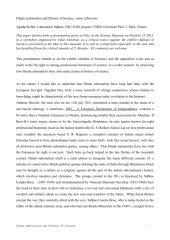 HinduNationalismHistoryofScienceDef_-_30-10-2013.pdf (177.79 Ko)
Télécharger le fichier
OsloAK.pdf (3.42 Mo)
Télécharger le fichier
Origin : Files produced by the author(s)