Trust and Manipulation in Social Networks
We investigate the role of manipulation in a model of opinion formation where agents have opinions about some common question of interest. Agents repeatedly communicate with their neighbors in the social network, can exert some effort to manipulate the trust of others, and update their opinions taking weighted averages of neighbors' opinions. The incentives to manipulate are given by the agents' preferences. We show that manipulation can modify the trust structure and lead to a connected society, and thus, make the society reaching a consensus. Manipulation fosters opinion leadership, but the manipulated agent may even gain influence on the long-run opinions. In sufficiently homophilic societies, manipulation accelerates (slows down) convergence if it decreases (increases) homophily. Finally, we investigate the tension between information aggregation and spread of misinformation. We find that if the ability of the manipulating agent is weak and the agents underselling (overselling) their information gain (lose) overall influence, then manipulation reduces misinformation and agents converge jointly to more accurate opinions about some underlying true state.
Nous étudions le rôle de la manipulation dans un modèle de formation d'opinion où les agents ont des opinions sur une question d'intérêt commun. Les agents communiquent à plusieurs reprises avec leurs voisins dans le réseau social, peuvent exercer un effort afin de manipuler la confiance des autres, et mettre à jour leurs opinions par des moyennes pondérés des opinions des voisins. La motivation de manipulation est donnée par les préférences des agents. Nous montrons que la manipulation peut modifier la structure de confiance et mène à une société connectée, lui faisant atteindre un consensus. La manipulation promeut le leadership d'opinion, mais même l'agent manipulé peut gagner de l'influence sur les opinions à long terme. Dans une société suffisamment homophile, la manipulation accélère (ralentit) la convergence si elle diminue (augmente) l'homophilie. Finalement, nous étudions la tension entre l'agrégation d'informations et le déploiement de désinformations. Nous trouvons que si la capacité de l'agent manipulateur est faible et les agents qui (ne) vendent (pas) bien leur informations perdent (gagnent) de l'influence globale, alors la manipulation réduit la désinformation et les agents convergent conjointement vers des opinions plus précises sur un état vrai sous-jacent.
Fichier principal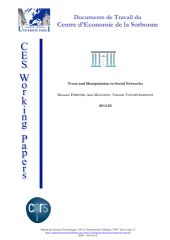 13065.pdf (687.96 Ko)
Télécharger le fichier
Origin : Files produced by the author(s)