Los generolectos del mojeño
This paper describes the categorical grammatical differences between the speech of women and men in Mojeño, an Arawak language spoken in lowland Bolivia. The Mojeño genderlects differ exclusively in the 3rd person masculine singular pronominal forms (independent pronouns, affixes, demonstratives, and articles) and in some interjections. It is an obligatory system systematically referring to the gender of the speaker, is highly frequently used and serves a referent tracking function when used it quotes, where it indicates the gender of the original speaker. The paper ends on a discussion on the diachrony of the system: though it is stable for centuries it has been innovated. Hypotheses of a contact-induced origin are examined. On the whole, the Mojeño genderlect system is quite characteristics of the rare genderlect systems attested worldwide, with the exception that it may be the oldest stable system attested until now.
Este articulo describe las diferencias gramaticales exclusivas entre el habla de las mujeres y de los hombres en mojeño, una lengua arawak hablada en las tierras bajas de Bolivia. Los generolectos del mojeño difieren exclusivamente en las formas pronominales de 3ª persona masculina singular (pronombres independientes, afijos, demostrativos y artículos) y en algunas interjecciones. Esto forma un sistema obligatorio que remite sistemáticamente al género del hablante. Es usado muy frecuentemente y sirve, cuando es usado en citas, como una función de rastreo de los referentes indicando el género del hablante original. El artículo concluye con una discusión acerca de la diacronía del sistema: aunque este ha sido estable durante varios siglos, es una innovación dentro de la familia arawak. Algunas hipótesis de origen inducido por el contacto entre lenguas son examinadas. En resumen, el sistema de generolectos del mojeño es muy característico entre los sistemas raros de generolectos atestiguados en el mundo, con la excepción de que este podría ser el sistema estable más antiguo atestiguado hasta ahora.
Fichier principal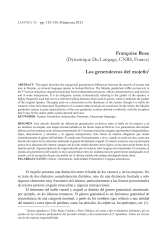 Rose_2013_GenerolectosMojeA_o.pdf (395.5 Ko)
Télécharger le fichier
Origin : Publisher files allowed on an open archive