Los territorios municipales de Mendoza frente a las prácticas de planificación participative.
The province of Mendoza, in the west of the Argentine Republic is in a favorable political conjuncture to strengthen the territorial planning in the municipalities. This is due to the approval of the Provincial Law 8051 of Territorial Ordering and Municipal Ground Uses that establish terms to formulate a Plan Provincial Territorial Ordering and Plans; against this background the municipalities have an annotated time to elaborate their own Plan. On the other hand the civil society is giving awareness signs on its protagónico paper like controller of the public policies, generating propitious scopes for the participativas social practices and circulation of the knowledge. This verifies in the social reactions front to decisions that can affect the atmosphere and the resources of the territory. In spite of this favorable context to fortify the instances of social participation it jeopardize with projects based on territorial intelligence, are observed very different institutional answers. The greater obstacles are within such municipalities, lack territorial conscience in the municipal agents and the handling of the information is fragmented. Taking into account the marks from reference that affect the provincial territorial policy, an investigation was made in order to analyze the practices of participativa planning in municipal scopes. Interviews, studies of case and qualification of municipal agents were combined, which allowed triangular results and of obtaining a socioterritorial differentiation of the municipalities of Mendoza. This result is a departure point to consider at the time of making proposals for a work agenda or trying transformations towards a new form to govern, where the associate management is multiplied. Before a same frame of provincial reference, the particular answers of the municipalities are improving, but the majority requires to cross a gradual own way with the qualification of the human resource and with a renovation of guidelines in relation to the local community.
La provincia de Mendoza, en el centro oeste de la República Argentina se encuentra en una favorable coyuntura política para afianzar la planificación territorial en los municipios. Con la aprobación de la Ley Provincial 8051 de Ordenamiento Territorial y Usos de Suelo se establecen plazos para formular los Planes a nivel provincial y municipal. Por otra parte la sociedad civil está asumiendo un papel protagónico como controlador de las políticas públicas, generando ámbitos propicios para las prácticas sociales participativas y circulación del conocimiento, con reacciones frente a decisiones que pueden afectar el ambiente y los recursos del territorio.
Fichier principal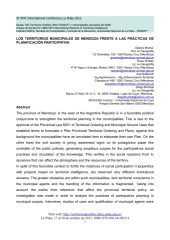 INTI-2012-LaPlata-Molina2.pdf (358.38 Ko)
Télécharger le fichier
Origin : Files produced by the author(s)