Quelles places pour les activités logistiques dans la métropole parisienne ?
Warehouses and distribution centres are key-places for production systems. They are dedicated to the management of increasingly global and complex commodity chains which characterise "hyper-industrial" economies (Veltz, 2000). They are established in metropolitan regions predominantly, like Paris. In this urban region, what are the exact places of these logistics implantations? What information does this geography depict about the logics of these establishment processes: between firms' choices, urban projects and metropolitan fragmentation dynamics? This paper aims to reveal the territorial systems, between market, political (politics and policy) and social regulations, which enable logistics activities to get places in metropolises. According to our statistical and cartographical approach, it appears that the building of warehouses entails to a peculiar suburbanization. It doesn't strictly follow urban fragmentation processes. Like industrial places, logistics places are often "[fiscally] wealthy municipalities populated by poor [inhabitants]." Several territorial systems seem to be at work: global dilutions of warehouses in urban areas; local concentrations of warehouses in municipalities which could be described as "servant territories" or in municipalities which are implementing economic development strategies based on hosting logistics activities or in places developed by State agencies. Thus, the local governance logics which explain these logistics places histories seem to balance between relegation and domination (of public territorial agents by logistics private or public agents) logics and voluntary and local projects of logistics developments. Eventually, there seems to be a certain metropolitan indifference vis-à-vis these places managing commodity flows. In this way the regulation of these activities is left to local mechanisms, scarcely propitious for the construction of this question as political stakes, public issues.
Les entrepôts logistiques comptent parmi les lieux clés des systèmes productifs. Ils gèrent les nombreux flux matériels caractérisant l'économie " hyper-industrielle " (Veltz, 2000). Ils s'implantent en préférence dans les grandes métropoles, telles que le celle de Paris. Au sein de cette région urbaine, quels sont les territoires précis de ces implantations ? Qu'est-ce que cette géographie indique quant aux ressorts de ces implantations entre dynamiques d'entreprises, projets urbains et processus de fragmentation métropolitaine ? Cet article cherche à dévoiler les systèmes territoriaux, entre régulations marchandes, politiques et sociales, permettant aux activités logistiques de trouver leur place dans la métropole. Une approche statistique et cartographique de la construction des entrepôts montre que cette dernière dessine une périurbanisation singulière, ne suivant pas strictement un processus de fragmentation urbaine. A l'image de l'industrie, les implantations logistiques dessinent une géographie de " communes [fiscalement] riches de pauvres [habitants] ". Plusieurs trajectoires territoriales apparaissent depuis la dilution générale des entrepôts dans les aires urbaines à la concentration dans des communes au profil de " territoires servants " ou dans des communes semblant avoir mises en place une stratégie de développement économie autour de l'accueil de ces activités jusqu'à des territoires développés par diverses agences étatiques. Ainsi les logiques de gouvernance locale au cœur de ces territoires logistiques semblent hésiter entre logiques de relégation et de domination (des acteurs privés et/ou sectoriels vis-à-vis des acteurs publics territoriaux) et projets volontaires locaux de développement logistique. Ressort finalement une certaine indifférence métropolitaine vis-à-vis de ces lieux gérant les flux matériels dont la régulation territoriale est laissée à des systèmes locaux, peu propices à une problématisation de cette question comme un enjeu politique, un problème public.
Fichier principal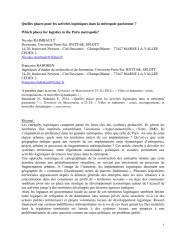 Raimbault_Bahoken_TEM_2014_HAL.pdf (3 Mo)
Télécharger le fichier
Origin : Files produced by the author(s)