Le soutien à la parentalité : généalogie et contours d'une politique publique émergente
Since twenty years or so appeared in many countries and continents (Europe, the USA or Australia), interventions qualified as " parenting support" or parenting programs. These interventions gave rise to a process of institutionalization and a specific field of public action emerge through founding texts or institutional arrangements . The international development of this issue is obviously not a matter of chance , but the evidence that are sketched in many developed countries public policies that could have some specificities compared to the usual scope , instruments and objectives of family policies. To clarify what means parenting support, we propose in this introductory chapter to return to two fundamental issues: the definition of this notion of parenthood/parenting and the genealogy of these interventions.
Depuis une vingtaine d'années se développent, dans de nombreux pays et continents (que ce soit en Europe, aux Etats-Unis ou en Australie), des dispositifs qualifiés d'" accompagnement des parents ", de " soutien à la parentalité ", de parenting support ou parenting programs, quelle que soit l'expression retenue. On assiste également à un processus d'institutionnalisation de ce domaine d'action publique émergent au travers de textes fondateurs ou de dispositifs institutionnels. Le développement de cette thématique de la parentalité au plan international n'est évidemment pas le fait du hasard, mais la preuve, s'il en était besoin, que s'esquissent dans de nombreux pays développés des politiques publiques qui pourraient avoir certaines spécificités au regard du périmètre, des instruments et des objectifs habituels des politiques familiales. Pour éclaircir ce que recouvrent ces dispositifs de soutien à la parentalité, nous proposons dans ce chapitre introductif de revenir sur deux questions initiales : celle de la définition de cette notion de parentalité et celle de la généalogie de ces interventions en direction des parents, pour permettre ensuite d'identifier de possibles lignes d'interprétation de la diversité des formes actuelles d'intervention et de politiques.
Fichier principal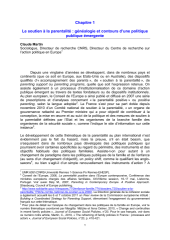 Chapitre_Claude_Martin_CAS_definitif.pdf (464.21 Ko)
Télécharger le fichier
Origin : Files produced by the author(s)