La médecine chinoise au Mali. Les économies d'un patrimoine culturel
The therapeutic practice of Chinese medicine was established in Africa in the wake of institutional cooperation missions and Chinese migration. More recently, the process of tracing the heritage of "traditional" knowledge initiated by UNESCO provoked transformations in the field of therapeutic medicine and oriented the cultural strategies of China in Africa. If the analysis of Chinese state policies allows for the contextualization of collective and individual strategies, the evaluation of the specific roles of local social dynamics and the multiplicity of constructions and symbolic practices specific to various African countries. This contribution of the ANR EsCA provides a history of the evolution of traditional Chinese medicine in China (F. Obringer), a review of the dynamics of local traditional medicines in sub-Saharan Africa ( J.-P. Dozon), as well as a preliminary study on Chinese medicine in Mali (F. Bourdarias).
Les pratiques thérapeutiques de la médecine chinoise se sont depuis longtemps implantées en Afrique dans le sillage des missions de coopération et des migrants chinois. Plus récemment, le processus de patrimonialisation des savoirs " traditionnels " enclenché par l'UNESCO a infléchi les transformations des champs thérapeutiques et orienté les stratégies culturelles de l'État chinois en Afrique. Si l'analyse des politiques étatiques chinoises permet de contextualiser les stratégies collectives et individuelles, encore faut-il évaluer le rôle spécifique des dynamiques sociales locales et la multiplicité des constructions pratiques et symboliques propres aux différents pays africains. Cette contribution de l'ANR EsCA confronte un historique de l'évolution des médecines traditionnelles chinoises en Chine (F. Obringer), une définition des dynamiques des médecines traditionnelles locales en Afrique sub-saharienne (J.-P. Dozon), et une présentation d'une première recherche au Mali (F. Bourdarias).
Fichier principal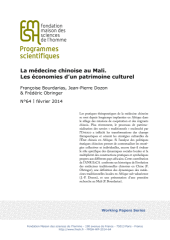 FMSH-WP-2014-64_Dozon.pdf (709.89 Ko)
Télécharger le fichier
Origin : Files produced by the author(s)