The unsolved contradictions of the modernists. Economic policy expectations and political crisis in France 1978-2012
This paper analyses the French political crisis since the late 1970s by investigating the links between the social structure and the economic policy expectations of the electorate. To this end, data on post-electoral survey are used to estimate structural models of political support to political parties for 1978 and 2012, and the estimation results are used to propose an analysis of the French crisis. The enduring French political crisis is found to be the expression of contradictions between the economic policies implemented by the successive governments and the existence of a dominant social bloc, i.e. a coalition of social groups that would politically support the dominant political strategy. Since 1978, both the right and the left have failed to find a solution to the contradictions between the policies they implemented and the expectations of their social bases, which are themselves inhabited by tensions and contradictions that evolve with the structure of French capitalism. The failure of all governing coalitions so far is a new expression of that of the "modernists" to take into account the expectations of the popular classes.
Ce papier analyse la crise politique française depuis la fin des années 1970 en étudiant les liens entre la structure sociale et les attentes de politique économique de l'électorat. A cette fin, les données post-électorales sont utilisées pour estimer deux modèles structurels de soutien aux partis politiques pour 1978 et 2012. Les résultats des estimations éclairent les raisons de la crise politique. Celle-ci est l'expression des contradictions entre les politiques suivies par les gouvernements successifs et l'existence d'une base sociale stable, d'un bloc social dominant, une coalition de groupes sociaux qui valideraient politiquement la stratégie politique dominante. Depuis 1978, la droite et la gauche ont échoué dans leur recherche d'une solution à ces contradictions, entre les politiques qu'elles souhaitaient mener et les attentes de leurs bases sociales, qui sont elles-mêmes traversées par des tensions et contradictions qui évoluent avec la structure du capitalisme français. Cet échec est une manifestation du retour des insuffisances de la stratégie des " modernistes " et de leur refus de prendre en compte les attentes des classes populaires.
Fichier principal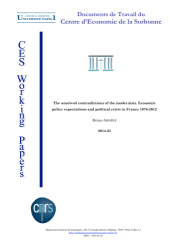 14023.pdf (761.1 Ko)
Télécharger le fichier
Origin : Files produced by the author(s)