Ordenamento Territorial em Recife-pe: os impactos urbanísticos e sociais da realocação de comunidades através do projeto Via Mangue
The logic of territorial ordainment in Recife has been developed mainly through the seclusion of the unwanted and the removal of stilt houses and slums in order to make room and prepare the space for new private enterprises. As an example of ordainment we took the "Via Mangue" project, which is part of Recife's mobility plan and is one of the main projects aimed at the city's preparation for the 2014 FIFA World Cup Brazil. We believe that the project makes use of the "great social benefits" discourse in order to cover its actual and practical consequences which, taken as whole, lead to the favoring of private sector over the public interest. That being so, the main goal of the present work is to make an analysis of territorial ordainment in Recife through the execution of the Via Mangue project; observing at the same time the urban and social impacts caused by the relocation of communities to the Via Mangue III housing complex, and verifying whether this policy actually promoted substantial improvement of habitability or only a precarious social inclusion of these populations. Our research was conducted and operated at three levels. First, the conceptual reconstitution of territorial ordainment; second, documental and cartographic research on the Via Mangue project; and last, fieldwork with observation of the constructed space and personal interviews with members of the families relocated to the Via Mangue III housing complex. We hope the present work could be a valuable contribution to the comprehension of the complexities involved in the relocation of families to housing complexes built by the government.
Lefebvre (2001), ao discuti a obra de Engels, sobre a Situação da Classe Operária da Inglaterra, enumera os elementos que revelam que a cidade já apresentava a ordem e a desordem urbanas na Inglaterra industrial. Ainda segundo Lefevbre (2001: 26), para Engels, "[...] a desordem varrerá a ordem, da qual ela é expressão, para criar uma nova ordem". Daí pensar que a configuração da cidade desordenada existe desde o inicio da instauração do capitalismo e vem cada vez mais assumindo papel primordial nas práticas de intervenção e gestão urbanas. Essas práticas através de políticas públicas pontuais, seletivas e efêmeras, deixando de lado o planejamento holístico e integrador. Como resultado, tem-se a cidade como uma mercadoria a ser negociada pelas suas potencialidades turísticas, econômicas e infraestruturais. O papel dos atores ou agentes mercadológicos é embelezar a pobreza e ordenar o caos.
Fichier principal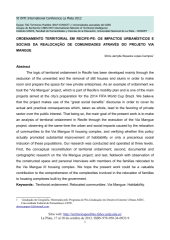 INTI-2012-LaPlata-SiqueiraLopesCampos.pdf (346.31 Ko)
Télécharger le fichier
Origin : Files produced by the author(s)