Une agriculture multifonctionnelle dans le projet urbain : quelle reconnaissance, quelle gouvernance ?
The recognition of the multifunctional character of agriculture and its translation in development projects change the local governance of these projects. Through various international study cases, this paper presents theways of implication agriculture in urban management projects. In these projects, the arena of decisions changes with new stakeholders and new concertation procedures. At first, we will present how the multifunctionality of urban and periurban agriculture is recognized and what is the legitimacy of this type of agriculture in local public policies. In a second part, we will present the translation of urban agriculture functions in town planning documents. In the last part of this paper, we will present the different stakeholders involved in those projects, focusing on the agricultural institutions.
La reconnaissance de la multifonctionnalité de l'agriculture et sa mise en œuvre explicite dans des projets de développement (urbains ou agricoles) se traduit par des changements dans la gouvernance de ces projets. En s'appuyant sur des études de cas dans différents pays, cet article traite plus spécifiquement des modes d'intégration de l'agriculture aux projets urbains. Dans ce cas, le contenu des projets d'aménagement ainsi que le processus de décision sont modifiés. La prise de décision se complexifie avec l'émergence de nouvelles parties prenantes et le développement des procédures de concertation. Les modes de reconnaissance d'une agriculture urbaine et périurbaine multifonctionnelle et les éléments de la légitimité d'une action publique locale sur cette agriculture sont tout d'abord présentés. La traduction de cette reconnaissance dans la politique d'aménagement (documents d'urbanisme) est abordée. Enfin, nous présentons les acteurs et processus impliqués dans les négociations. C'est dans cette dernière partie que nous analyserons comment la profession agricole participe à l'aménagement des espaces ouverts de la ville.
Fichier principal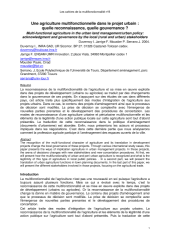 MFAPU-avec_RA_sumA_sanglais.pdf (292.29 Ko)
Télécharger le fichier
Origin : Files produced by the author(s)