Faire autorité sur le web. Analyse des stratégies de mise en visibilité et de contrôle de l'information géographique par les institutions publiques en Amérique Latine
Institutional base maps are today compete with a variety of datasets from the Internet. Faced with new actors (multinational corporations such as Google to communities of practice such as OpenStreetMap), historical spatial data producers need to reaffirm the legitimacy of their data. Our proposal is to analyze their strategies to (re)positioning on the web. From a corpus of 1674 sites providing environmental open data in Brazil, Bolivia and Argentina, we analyze the particular case of spatial data. Quantitative and qualitative study of visibility and value of these data allows us to approach the strategies of institutional producers. Then, the content analysis of the government portals, particularly the national spatial data infrastructures, highlights the critical importance of managing spatial data flow.
Les référentiels géographiques institutionnels sont aujourd'hui concurrencés par une offre en données qui ne cesse de se démultiplier sur Internet. Face à de nouveaux acteurs (des multinationales comme Google aux communautés de pratique comme OpenStreetMap), les producteurs historiques doivent réaffirmer la légitimité de leurs données. Cette proposition vise à analyser leurs stratégies pour se (re)positionner sur le web. A partir d'un corpus de 1674 sites diffusant des données environnementales en libre-accès au Brésil, en Bolivie et en Argentine, nous analysons le cas particulier des données géographiques. L'étude quantitative et qualitative de la mise en visibilité et de la valorisation de ces données permet d'approcher les stratégies des producteurs institutionnels tandis que l'analyse du contenu des portails gouvernementaux, et en particulier des infrastructures nationales de données géographiques, met en évidence de nouveaux enjeux relatifs à la gestion des flux d'information.
Fichier principal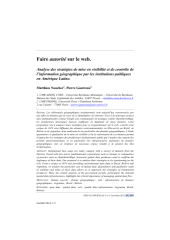 Sageo2014_baguala_vdef.pdf (6.06 Mo)
Télécharger le fichier
Origin : Files produced by the author(s)