Intégration des immigrés et associations en France. Un essai d'approche croisée par l'économie et la géographie
The issue of integration is key in the literature about migration. It refers to a set of public policies aiming at integrating foreign populations in a given society. This paper aims at investigating the relationships between the integration of four communities installed in France (Algerian, Portugese, Turkish, and Vietnamese) and the presence of associations. The methodology is rooted on two approaches, quantitative economics and geography. It uses a new database, extracted from the Journal Officiel and several surveys, noticeably TeO. In a first step we ask whether the regional distribution and the density of associations explain the degree of integration of the migrants stemming from the four communities. In a second step we test whether memberships into an association increases or decreases the adoption of oppositional identities and if the latter influences the integration via the access to employment.
Le thème de l'intégration est un des principaux angles d'attaque de la littérature scientifique consacrée à l'immigration. Il désigne un ensemble de politiques mises en œuvre par les pouvoirs publics pour que des populations soient correctement insérées dans une société donnée. Dans cet article, l'objectif est de voir s'il existe une relation entre l'intégration des personnes appartenant à quatre communautés présentes en France (Algériens, Portugais, Turcs, Vietnamiens) et l'existence d'associations. La méthode repose sur le croisement d'une approche géographique et d'une approche économique, en mobilisant des données inédites issues du Journal Officiel et de plusieurs enquêtes démographiques, notamment l'enquête TeO. On tente de voir d'abord si les variations régionales de la densité des réseaux associatifs communautaires explique la plus ou moins grande intégration des immigrés de ces quatre groupes. Ensuite, en utilisant plusieurs modèles, on tente de voir si l'appartenance à une ou à des associations non communautaires renforce l'adhésion des immigrés à des valeurs oppositionnelles au modèle culturel du pays d'accueil et si cela a une influence au moins indirecte sur leur intégration par l'accès à l'emploi.
Fichier principal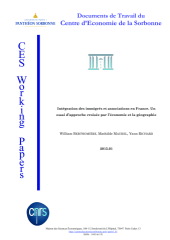 15001.pdf (7.72 Mo)
Télécharger le fichier
Origin : Files produced by the author(s)