Expériences de justice et représentations sociales : l'exemple du non-recours aux droits
Unser Beitrag richtet sein Augenmerk auf eine seit Jahren in den Sozialwissenschaften auftretende Problematik des Nicht-in-Anspruch-nehmen von Rechten. Bezug nehmend auf soziologische (Warin, 2007 ; Odenore, 2012), klassisch psychosoziale (Robert & Faugeron, 1978 ; Felstiner, Abel & Sarat, 1981) und neueren Beiträge (Dubouchet, 2004 ; Fieulaine, Kalampalikis, Haas, 2009 ; Fieulaine, Kalampalikis, Haas & Béal, 2013) schlagen wir eine Erforschung der Reports von Bürgern zur Gerechtigkeit und zu sozialen Rechten unter dem Gesichtpunkt eines Ansatzes der sozialen Repräsentation vor (Moscovici, 2013). Die qualitativen und quantitativen Daten, die in diesem Bereich bei prekären Bevölkerungsschichten gesammelt wurden, zeigen die paradoxen Denkmuster, von denen prekären Schichten Gebrauch machen. Sie verweisen auf eine Verinnerlichung des disqualifizierenden Status, bei dem all das herabsetzt wird, das einzufordern ist, um davon frei zu kommen. Daraus folgernd schlagen wir vor, den inneren Bereich der Entstehung, der Zirkulation und Diffusion, wie auch die Logik dieser fragilen Repräsentation in ihrem Verständnis des Rechts zu untersuchen.
Our paper focuses on an emerging issue in the social sciences: the non-take up of rights. Based on classic and more recent sociological and psychosocial research, we used the social representations approach to explore the citizens'relationships to justice and to their social rights. Qualitative and quantitative field data were collected from vulnerable populations (in the region of Lyon, France). The results highlighted the paradoxical injunctions to which these vulnerable populations were subject, such as having to internalize a disqualifying status while having to claim it in order to overcome it. To explore this further, we suggest to study « from the inside » where and how the logic of such representations vulnerable in their relationship to law were produced, circulated and diffused.
Notre article se focalise sur une problématique émergente en sciences sociales, celle du non-recours au droit. À partir des apports sociologiques et psychosociaux classiques et récents nous proposerons une investigation des rapports des citoyens à la justice et aux droits sociaux sous l'angle de l'approche des représentations sociales. Des données qualitatives et quantitatives recueillies auprès du terrain et de populations vulnérables illustreront les injonctions paradoxales dont les populations fragiles font l'objet, intériorisation d'un statut disqualifiant tout en le revendiquant pour s'en affranchir. À cette fin, nous proposerons d'étudier de l'intérieur de leur lieu de production, circulation et diffusion la logique de ces représentations fragilisées dans leur rapport au droit.
Fichier principal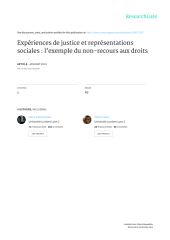 Expériences de justice et représentations sociales.pdf (380.74 Ko)
Télécharger le fichier
Origin : Explicit agreement for this submission