The Power of Categories. Public Employment Policies and Immigration in France and Italy
El poder de las categorías. Políticas públicas e inserción laboral de inmigrantes en Francia y en Italia
Le pouvoir de la catégorie. Les politiques publiques et l'insertion professionnelle des immigrés en France et en Italie
The paper explores public employment policies through life course analysis and focuses on transitions concerning the professional employment and careers of immigrants. The aim is to point out the influence of employment and immigration policies on the opportunities of immigrants in the areas of labour employment and the acquisition of social rights. French migratory policy has for a long time been based on a form of republican assimilation, i.e. immigrants are to be integrated via employment on the labour market. Do public policies consider the needs of one individual to the extent that they wonder about the specific problems of the non-European foreigner? The aim is to critically analyse the target categories to underline how it is possible to transform a population into a public priority, or conversely, to make it invisible. The Italian case enables us to look differently at the French immigration and employment systems: this comparative exercise draws its inspiration from a "revisited" societal analysis.
Este artículo presenta un análisis de la acción pública a través de la reconstrucción de trayectorias de vida y de las transiciones ligadas a la inserción y evolución profesional de inmigrantes. Su objetivo es medir la influencia de las políticas laborales y migratorias en términos de oportunidades de acceso al trabajo y a los derechos sociales. Durante mucho tiempo, la política migratoria francesa estuvo fundada en una forma de republicanismo asimilacionista que limitaba la integración de inmigrantes a su inserción laboral. ¿Las políticas públicas toman en cuenta las necesidades de los individuos, es decir, se interesan en las problemáticas que afectan al inmigrante no europeo? El propósito de este artículo es lograr un análisis crítico de las categorías objetivo de estas políticas para mostrar en qué medida se destaca o se subestima la presencia de ciertos grupos. El caso italiano permite observar las políticas migratorias francesas sobre la gestión de la mano de obra migrante de forma comparativa; un enfoque inspirado en una reconsideración del análisis societal.
L'article propose une analyse de l'action publique via la reconstruction de parcours de vie et de transitions concernant l'insertion professionnelle et l'évolution de carrière des immigrés : l'intérêt est de mesurer l'influence des politiques d'emploi et d'immigration en termes d'opportunités d'accès à l'emploi et aux droits sociaux. Le fondement de la politique d'immigration française a longtemps été une forme de républicanisme assimilationniste, qui sollicitait les immigrés pour qu'ils s'intègrent surtout à travers l'insertion sur le marché du travail. Les politiques publiques prennent-elles en considération les besoins de l'individu au point de s'interroger sur les problématiques de l'étranger non-communautaire ? L'intérêt est celui d'une analyse critique des catégories-cibles, afin de mettre en évidence la mesure dans laquelle on explicite ou au contraire, on rend invisibles les populations en cause. Le détour par la situation italienne permet d'apporter un regard nouveau sur les politiques d'immigration françaises et sur la gestion de la main-d'œuvre immigrée à travers un exercice comparatif qui s'inspire de l'analyse sociétale « revisitée ».
Fichier principal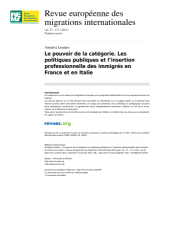 Lendaro-le-pouvoir-de-la-categorie-REMI 2011.pdf (309.2 Ko)
Télécharger le fichier
Origin : Publisher files allowed on an open archive
Comment : Plus de 2 ans se sont écoulés suite à la publication de cet article (2011). Il est par ailleurs intégralement accessible en ligne sur le site de l'éditeur (https://remi.revues.org/5429)