Wissenschaft in Aktion durch wissenschaftliche Texte zeigen
Showing science in action through scientific writings
Mostrar la ciencia en acción gracias a los escritos científicos
Montrer la science en train de se faire par les écrits scientifiques
Das BiId, das das junge Publikum von der Wissenschaft hat, ist weit von der,,Wissenschaft in Aktion» entfernt, die die Wissenschaftssoziologen beschrieben und formalisiert haben. Mit der Ambition, Leseschlüssel für diese ungewisse und chaotische WeIt zu geben, sind wir von den Reichtümern der Bibliotheken ausgegangen, um wissenschaftliche Texte spielerisch vorzustellen: Laborhefte, wissenschaftliche Artikel und Popularisierungsartikel, Doktorarbeiten, Patente... Dieses Workshop wurde mehrmals geführt und es wird hier über diese Erfahrung berichtet, unter dem praktischen wie unter dem theoretischen Blickwinkel.
The image of science among young people is far from the "science in action" that sociologists of science have described and theorized. With the aim of giving the keys to that uncertain and chaotic world, we drew from the wealth oflibraries to present a ludic picture ofscientific writings: laboratory notebooks, scientific or popular science articles, PhD thesis, patents... This workshop was held several times and we report here on this experience, from both practical and theoretical perspectives.
La imagen que el público joven tiene de la ciencia está muy alejada de la ciencia en acción que los sociólogos de ciencias han descrito y formalizado. Con la ambición de dar las claves de lectura de este mundo incierto y caótico, hemos empezado con las riquezas de las bibliotecas para presentar de manera lúdica los escritos científicos : cuadernos de laboratorio artículos científicos o de divulgación, tesis de doctorado, patentes. Este tallerse ha realizado varias veces y hacemos aquíel informe de esta experiencia, a la vez bajo el ángulo práctico y teórico.
L'image que le jeune public a de la science est bien éloignée de la « science en train de se faire » que les sociologues des sciences ont décrite et formalisée. Avec l'ambition de donner les clés de lecture de ce monde incertain et chaotique, nous sommes partis des richesses des bibliothèques pour présenter de manière ludique les écrits scientifiques : cahiers de laboratoire, articles scientifiques ou de vulgarisation, thèses de doctorat, brevets... Cet atelier a été conduit à plusieurs reprises et nous faisons ici le compte-rendu de cette expérience, à la fois sous les angles pratique et théorique.
Fichier principal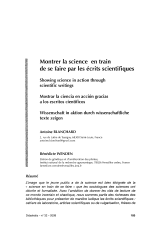 DIDASKALIA_2008_32_185.pdf (1000.28 Ko)
Télécharger le fichier
Origin : Publisher files allowed on an open archive