Justice sociale et luttes pour la reconnaissance: la question de l'agapè
In The Course of Recognition, Paul Ricoeur pays special attention to Honneth's social theory, on the one hand, because it is devoted to the important issue of the struggles for recognition and, on the other hand, because Axel Honneth proposes a convincing neo-Hegelian conception of social justice. However, while adhering to Honneth's project, Ricoeur establishes a dialectical relationship between love and justice, in order to correct an inherent defect of Anerkennung. The reference to agápē would provide the only way out of the endless struggle, by demonstrating that human beings are capable of mutual recognition through the social practice of gift/counter-gift. Ricoeur presents agápē as a simple add-on to the Honnethian project. The present paper returns to this assertion, and demonstrates that, on the contrary, the use of agápē alters the struggles for recognition, and does not help us to arrive at a conception of social justice, which is capable of revealing experiences of injustice and combatting them.
Dans Parcours de la reconnaissance, Paul Ricoeur accorde une attention particulière à la théorie sociale honnethienne, d'une part parce qu'elle porte sur le thème majeur des luttes pour la reconnaissance, d'autre part parce qu'elle propose une conception néo-hégélienne de la justice sociale convaincante. Toutefois, tout en adhérant au projet honnethien, Ricoeur instaure un lien dialectique entre la justice et l'amour pour corriger un défaut consubstantiel à l'Anerkennung. Seule la référence à l'agapè permettrait de sortir du caractère interminable de la lutte, en montrant que les hommes sont capables de reconnaissance mutuelle par des pratiques sociales de don/contre-don. Ricoeur présente l'agapè comme un simple complément du projet honnethien. Le présent article revient sur cette affirmation, et montre, au contraire, que le recours à l'agapè modifie les luttes pour la reconnaissance, et n'aide pas à penser une justice sociale capable de témoigner des expériences de l'injustice, et de les combattre. Mots-clés: Paul Ricoeur, Axel Honneth, luttes pour la reconnaissance, agapè, justice sociale.
Fichier principal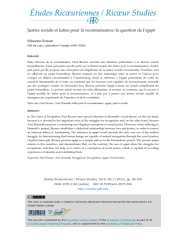 Article définitif Ricoeur Honneth.pdf (600.8 Ko)
Télécharger le fichier
Origin : Publisher files allowed on an open archive