Discours subjectif et art chorégraphique sur les réseaux sociaux
This paper carries out a semantic discourse analysis of short messages written by Twitter users (twittos) and shared on their own wall, the wall of others as well as that of cultural institutions (PAVEAU 2013 : 6). We introduce a new pluridisciplinary approach that combines linguistics and informatics, with a special focus on choreographic arts. Our main aim is to manually and automatically formalize, classify and model subjective expressions. Based on a corpus-driven approach, we measure the subjectivity through semantic and linguistic concepts that allow for a functional understanding of this phenomenon. By doing so, we draw the contours of a semantic ontology of dance critique that would help us detect human judgements in social media automatically. This paper provides a guideline for the implementation of a set of semantic categories that reflect different evaluative judgements on choreographic art. In this perspective, we propose to adopt already developed semantic models for journalistic texts (MARTIN & WHITE 2005) as well as for the cultural object in general (VERNIER & al. 2008 : 2).
Cet article porte sur l'analyse du discours subjectif dans les énoncés des utilisateurs de Twitter – twittos (Paveau 2013 : 6). Nous présentons une approche pluridisciplinaire au croisement de l'informatique et la linguistique avec une attention particulière portée à l'art de la danse. Nous avons pour objectif d'analyser, manuellement et automatiquement, des expressions évaluatives ciblant des spectacles vivants de danse et d'opéra. Un travail sur corpus a permis une première modélisation sémantique qui révèle la complexité de l'évaluation étudiée. Nous essayons de mettre en œuvre un modèle opératoire pour la détection automatique des opinions. Nous cherchons notamment à modéliser l'expression subjective sur la danse et à construire un ensemble de catégories sémantiques rendant compte des différents jugements évaluatifs portant sur la danse. Dans cette perspective, nous proposons d'adopter les modèles sémantiques déjà élaborés pour les textes journalistiques notamment (Martin & White 2005), ainsi que pour l'objet culturel en général (Vernier & al. 2008 : 2), pour l'expression d'une évaluation critique de l'œuvre chorégraphique.
Fichier principal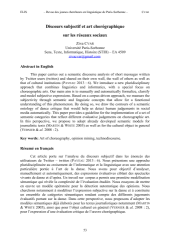 Cvar_ELIS_VF_6_nov.pdf (272.53 Ko)
Télécharger le fichier
Origin : Explicit agreement for this submission