L'informalité politique en ville. 8 chercheurs et 9 villes face aux modes de gouvernement urbain
In 2010, a collective of 8 geographers and sociologists launched the research program "Informality, Power and the Other Side of Urban Spaces - Inverses". This text is a description of the process and different stages followed by the research group, as well as the approaches used to develop a shared analytical framework, and the positioning of its thesis and findings in relation to contemporary questions on urban power. It furthermore presents how political informality has emerged as a key notion to understanding modes of urban government, taking into account the different forms of arrangement in presence in the cities studied.
En 2010, un collectif de 8 chercheurs, géographes et sociologue, lance le programme de recherche « Informalité, pouvoirs et envers des espaces urbains - Inverses ». Ce texte retrace le parcours de ce collectif, la manière dont il a construit une analyse commune et positionné sa problématique et ses recherches par rapport aux questionnements contemporains sur les pouvoirs urbains. Il propose de voir comment la notion d'informalité politique a émergé pour devenir une clef de lecture des modes de gouvernement urbain, partant de l'analyse de diverses formes d'arrangement à l'œuvre sur les terrains étudiés.
Fichier principal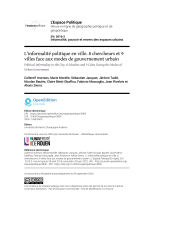 espacepolitique-3806.pdf (345.1 Ko)
Télécharger le fichier
Origin : Publisher files allowed on an open archive
Licence : CC BY NC ND - Attribution - NonCommercial - NoDerivatives